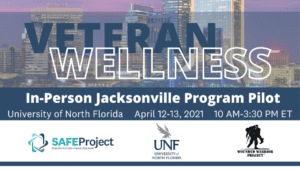 Over the past two days, SAFE Project, in collaboration with the University of North Florida (UNF), launched the Veteran Wellness Program with a two-day pilot training held at UNF's University Center in Jacksonville, Florida. Created with funding from Wounded Warrior Project ® (WWP), and input from veterans, this program empowers veterans by building resiliency. 
SAFE Project is aware that veterans are twice as likely to die from an accidental overdose than any other member of society. This prevention program, based on the input of veterans, has the goal of supporting all aspects of their persona: self-leadership and identity, addressing emotions and wellbeing, setting goals and finding solutions, moving from coping to thriving, achieving financial wellness, and finding help and support when necessary.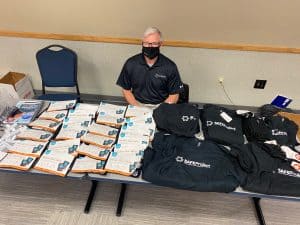 During the Veteran Wellness Pilot program, veterans worked through core information session modules. The modules were brief (about 35 minutes) and included online recordings, exercises, and worksheets. Peer-support discussions and incentives for completion were also part of the pilot. 
To build this comprehensive Veteran Wellness Program, SAFE Project partnered with Organizational Wellness and Learning Systems (OWLS) throughout 2020 to ask post 9/11 veterans what they thought was important, and over 100 veterans provided input. 
"Participating in the Veteran Wellness Pilot is a great opportunity for veterans to tell SAFE Project and Wounded Warrior Project what they want from training information sessions," said Bill Pinamont, Senior Director, SAFE Veterans at SAFE Project. 
Veteran input included challenges relating to:
Post-service identity

Stigma

Social support

Guidance on resources

Effective coping strategies
Support gaps were also identified and included: learning finances and the VA claims process, getting support for creating a lifestyle of well-being, having voices and stories heard, needing resources to be available promptly after exiting the military, bringing awareness to military sexual trauma, finding spirituality, creating a supportive community, establishing an identity apart from military life, learning how to reverse unhealthy coping routines, and needing child support resources. These findings are the basis for the Veteran Wellness program.
This program "by veterans and for veterans," highlights the diverse range of multicultural talents and resilience among veterans. Veterans learn from, support, and contribute to each other and the community. 
SAFE Project is hosting two additional Veteran Wellness pilots this spring, the first, virtually, sponsored by the University of Texas – San Antonio and Texas A&M University – San Antonio on April 20-21, 2021, and the second at Drexel University in Philadelphia the week of May 10. 
For more information, please contact: bill.pinamont@safeproject.us