SAFE Communities
Provide communities with the tools they need to respond to this epidemic.
SAFE Project believes the most important work responding to the addiction epidemic will happen at the local and community level, through neighbors helping neighbors.
SAFE Communities, is a holistic, comprehensive way for your community to respond to the addiction epidemic by helping communities find the tools they need to convert intent into action.
Concerned citizens across the country have created innovative, collaborative solutions to the addiction crisis happening in their backyard. They create public awareness campaigns, start programs to help people with substance use disorder stay out of the criminal justice system, open specialized housing to support people in recovery, build relationships with the medical community to prevent misuse of prescription opioids, and more.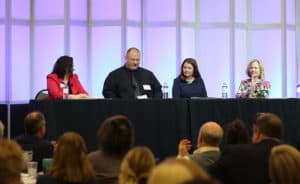 SAFE Project presenting at the Businesses Combat the Opioid Crisis
event in Abingdon, VA.
SAFE Communities connects communities doing good work to communities in need of guidance. We find best practices from communities of all sizes and brings them to you.
A centerstone project of our SAFE Communities program is the SAFE Community Playbook. If you are interested in making a difference in your community, the SAFE Community Playbook will be your blueprint. It will walk you through finding the right team of community constituents to lead your effort, working together to identify your priorities, and finally, putting your work into action using examples from other communities around the county.
SAFE Choices, our Speakers Program, delivers credible and engaging speakers to community events to educate the public about substance use disorder and the opioid crisis. SAFE Choices encourages communities, campuses, and individuals to make positive change while working together.
By the Numbers:
In 2017, 134 people died every day from a prescription or illicit opioid overdose. That's one person every 11 minutes.
For every one/single opioid overdose death, there were:
18 people who had a substance use disorder involving heroin;
62 people who had a substance use disorder involving prescription opioids;
377 people who misused opioids in the past 12 months; and
2,946 people who used prescription opioids in the past 12 months.
From 2016 to 2017, emergency department visits for suspected opioid overdoses increased by 30 percent.
Want to know more about how to build your SAFE Community?  Contact Us
SAFE Communities Training
SAFE Project is dedicated to providing educational and informative webinars showing communities specific action steps they can take to help stop the addiction epidemic. Fill out the form below to gain access to our webinar resources.
Resources
Resource

It's time to organize and galvanize your community to create a opioid crisis plan.

SAFE Project's approach to ending the nation's catastrophic addiction epidemic.

Event

The City of Alexandria, VA holds a "Take Back Day," a public awareness and community outreach event that encourages the safe disposal of unwanted or expired medications.