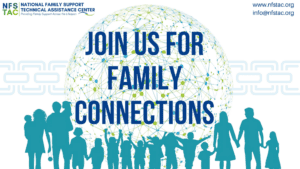 Hosted by the National Family Support Technical Assistance Center, "Family Connections" is a virtual community for parents and caregivers who support loved ones facing substance use and/or mental health challenges.
Families tell us they need credible resources, guidance to access help, or simply to connect with others facing similar challenges.
Monthly gatherings will focus on a specific topic, provide tips and tools, and offer the opportunity to network with other families.
"Family Connections" takes place the first Thursday of every month at 1:30 ET.
February Connection: "How to Find the Right Campus Supports for Students in Recovery or Experiencing Mental Health and/or Substance Use"
You'll hear from three experts on finding collegiate recovery and campus mental health supports for your student, learn what to ask, and connect with other family members.

Kimberly Boulden, Senior Director, SAFE Campuses
Dylan Dunn, Director, SAFE Campuses, Technical Assistance
Jenn Rothmann, NAMI, Senior Manager for Youth and Young Adult Information, Support, and Education