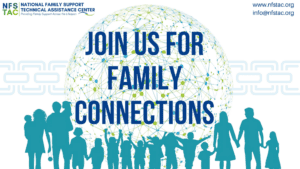 Hosted by the National Family Support Technical Assistance Center, "Family Connections" is a virtual community for parents and caregivers who support loved ones facing substance use and/or mental health challenges.
Families tell us they need credible resources, guidance to access help, or simply to connect with others facing similar challenges.
Monthly gatherings will focus on a specific topic, provide tips and tools, and offer the opportunity to network with other families.
"Family Connections" takes place the first Thursday of every month at 1:30 ET.
June Connection: "Families Managing System Navigation"
As parents and caregivers for children of any age, we know firsthand that the only constant in life is
change. Whether it's getting a new IEP, managing a new diagnosis, or trying to access services, it can be
confusing to know how to get exactly what you need. Systems navigation can be human and personal,
such as a family peer support specialist, or virtual, such as an online directory to find treatment services
for others or just help for ourselves.
Our June Family Connections event features the tools available to help you find what you need when
you need it. We'll be joined by Heidi Rochon, Director of the Parent Action Network at SAM, who'll
share tips on accessing personalized family peer support to help you navigate confusing systems. We'll
also see the newest virtual tool when Gena Fitzgerald, SAFE Project's Senior Director of Family Outreach & Support, demonstrates the first-of-its-kind online Family Support Locator to help families everywhere find the
help they need in their own communities.