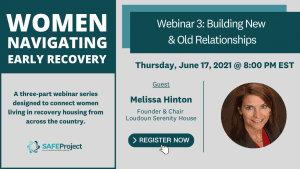 Women Navigating Early Recovery is a three-part webinar series designed to connect women living in recovery housing from across the country. This series is a safe place to share inspirational stories and offer support around challenges faced by women in early recovery. 
Webinar 3: Building New & Old Relationships
As you are beginning a new journey of change, relationships will also change. It is important to stay true to yourself and your pathway of recovery by setting healthy boundaries and expectations. Join us to hear from recovering peers who have experience building and maintaining healthy relationships in recovery.