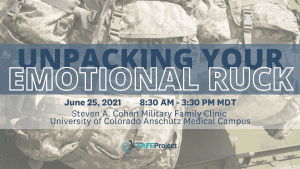 As military folks know, the ruck is the backpack that carries all your gear and supplies and can weigh 70-90 pounds. During Unpacking Your Emotional Ruck programming, the ruck represents the unique, emotional weight carried by military connected individuals that often differs from their civilian counterparts.
This day-long workshop, hosted by the Steven A. Cohen Military Family Clinic at University of Colorado Anschutz Medical Campus, uses evidence-based and anecdotal approaches to identify risk-protective factors and suggests coping strategies for those with military connections. To encourage healthy coping skills, SAFE Project partners with a Marine Corps veteran and military spouse, Richelle Futch, to host Unpacking Your Emotional Ruck workshops.
We will be providing a light breakfast, boxed lunches, and coffee/tea and sodas. Space is limited due to COVID-19 restrictions, so please sign up ASAP to ensure your seat! Please wear a mask. We hope you'll join us on June 25, 2021.

For questions, please email Bill Pinamont, Senior Director of SAFE Veterans at SAFE Project, at bill.pinamont@safeproject.us. This event is supported by Walmart. 
For more information about SAFE Veterans, please visit safeproject.us/veterans.