Fatoumata Bah is originally from Guinea, West Africa. She describes herself as coming from a very strict, overprotective family. As a child, Fatou was molested, setting up a difficult cycle of abandonment and doubt of her own self-worth. Around this time, and with these experiences already shaping her outlook, Fatou moved to America.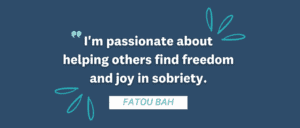 Fatou now understands that this was temporary relief, but at the time felt like it was the solution to the deeper issues. Fatou self describes herself at this point at having become, "a full blown alcoholic and drug addict." She was forced to leave her home and family, and found herself in an arranged marriage and an abusive relationship. Even following surgery on her brain — which Fatou thought, as a side effect, might "cure" her of her addiction — Fatou found herself returning to use.
These experiences may be difficult to read, but this is not the tragic story you may think it is: this is a story of triumph and of finding one's true self. Different strategies and technique work for different people. For Fatou, joining Alcoholics Anonymous worked.
This summer, Fatou celebrated four years in recovery.
Combating Stigma
Like SAFE Project, Fatou believes that eliminating stigma is the key: it unlocks our compassion for each other, and it unlocks new avenues for those in active use, including recovery.
Sober is so… sexy!
These days, Fatou is the entrepreneur behind Sober is so… sexy! — both a state of mind, as well as a clothing brand.
"Getting sober is extremely hard," Fatou explains. "I remember in meetings I would just start to say, 'sober is so sexy' after I shared and people would start laughing and would say, 'oh my God, you make it sound so fun and so cool.' For my anniversary last year, my former sponsor gifted me with this shirt that said 'Sober Is So Sexy'. I wore to the gym, and this muscular guy with tattoos everywhere comes up to me and says, 'I love that shirt. I've been sexy for seven years!'"
It was here that Fatou realized she truly was accepted and part of a group. On her drive home from the gym that day, Sober is so… sexy! began to take shape.