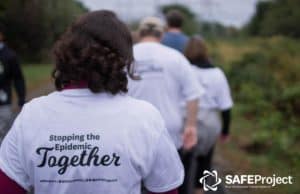 It's Volunteer Appreciation Week! SAFE Project would like to thank everyone who has volunteered their time, talents, and support this past year. With your help, encouragement, and inspiration we have been able to accomplish even more in our third year than we ever imagined.
Thanks to you, we have been able to hold training sessions on the "SAFE Community Playbook", which helps communities organize coalitions that make a difference in their community.
Thanks to you, we launched our second Collegiate Recovery Leadership Academy to develop and cultivate 52 future leaders from college campuses across the nation. We were able to provide the training and mentoring needed to create and strengthen collegiate recovery efforts at 38 schools.
Thanks to you, we have been able to expand the SAFE Communities, SAFE Campuses, and SAFE Veterans initiatives; educating communities on Naloxone, researching recovery housing, and so much more! 
We are excited about the future of SAFE Project and our continued efforts in overcoming the addiction epidemic in the United States. As we grow,  there will be opportunities to volunteer nationwide.  You can stay connected with all things volunteer by joining the SAFE Project Volunteer group on Facebook. 
If you would like to become a SAFE Project Volunteer or know someone who might want to get involved,  you can get more information and register here.
Thank you, 
Randy Abbott, National Volunteer Coordinator