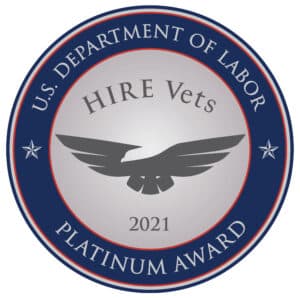 Arlington, VA (November 10, 2021)
U.S. Secretary of Labor Martin J. Walsh recognized SAFE Project as one of the 849 recipients of the 2021 HIRE Vets Medallion Award during a virtual award ceremony presented by the U.S. Department of Labor. 
SAFE Project earned the Platinum award. The Honoring Investments in Recruiting and Employing American Military Veterans Act (HIRE Vets Act) Medallion Program is the only federal award program that recognizes employers who successfully recruit, hire, and retain veterans. 
"We are honored to be recognized as one of the 2021 HIRE Vets Medallion Award-Platinum recipients," said Jeff Horwitz, Chief Operating Officer of SAFE Project. "Hiring and supporting veterans is important to SAFE Project and we believe veterans bring unique skill sets to the workforce, as well as a solid commitment to mission and team loyalty. Supporting veterans in our organization as well as in our communities is a top priority." 
Horwitz is a retired U.S. Navy Captain with 28 years of military service, including as General Counsel of the White House Military Office.
A veteran is twice as likely to die from an accidental overdose compared to any other member of society.  For veterans and their families, the transition to civilian life can be particularly difficult. To address this, SAFE Veterans, a flagship initiative of SAFE Project, connects with veterans, active duty service members, their families, and caregivers through several programs focused on mental health and substance use disorders prevention and support. 
SAFE Project joins 848 other companies from 49 states, plus the District of Columbia, that have shown a commitment to hiring veterans, but also ensuring that they have a long-term career and growth plan that uses the diverse skills they acquired through their military service. Recipients of the 2021 HIRE Vets Medallion Award meet rigorous employment and veteran integration assistance criteria, including veteran hiring and retention percentages; availability of veteran-specific resources; leadership programming for veterans; dedicated human resource efforts; pay compensation and tuition assistance programs for veterans. More than 1,400 employers have earned a HIRE Vets Medallion Award since 2018. 
About SAFE Project: SAFE Project understands the sacrifices and rewards of military service. Adm. James A. "Sandy" Winnefeld and his wife Mary are the Co-Founders and Co-Chairs of SAFE Project. Adm. Winnefeld served for 37 years in the United States Navy, retiring in 2015 after serving as the ninth Vice Chairman of the Joint Chiefs of Staff and the United States' number two ranking military officer. Mary Winnefeld has been actively involved in the health and welfare of military and veteran families, as well as the policies that affect their lives. Mrs. Winnefeld is the recipient of both the Department of Defense and Department of the Navy Meritorious Public Service Award.
The Winnefelds started SAFE Project, a national nonprofit committed to overcoming substance dependence in the United States in 2017 following the loss of their 19-year-old son, Jonathan, to an accidental opioid overdose.
About the HIRE Vets Medallion Program: The HIRE Vets Medallion Award is earned by businesses that demonstrate unparalleled commitment to attracting, hiring and retaining veterans. The 2022 HIRE Vets Medallion Award application period will open to employers on Jan. 31, 2022. For more information about the program and the application process, visit HIREVets.gov. There are different awards for large employers (500-plus employees), medium employers (51-499 employees), and small employers (50 or fewer employees). Additionally, there are two award tiers: platinum and gold.