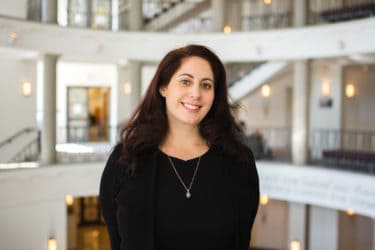 SAFE Project is excited to announce that Shelly Weizman has been selected as the recipient of the 2021 Mary L. Fleming Memorial Mentor of the Year Award!
Shelly Weizman, JD is the Associate Director of the Addiction and Public Policy Initiative at the O'Neill Institute for National and Global Health Law at Georgetown University Law Center. Shelly is an Adjunct Professor of Law at Georgetown and teaches a course on Addiction & Mental Health Law and Policy. She also facilitates the Recovery Policy Collaborative, a network of experts in health, human rights, and policy who have lived experience with addiction.
She previously served as the Assistant Secretary for Mental Hygiene in the Office of Governor Cuomo of New York where she oversaw policy related to addiction, mental health, and disabilities. She began her legal career as a civil rights attorney at MFY Legal Services, a not-for-profit legal services organization in New York City. Shelly is a person in long-term recovery from a substance use disorder, celebrating more than 22 years of recovery.
The Mary L. Fleming Memorial Mentor of the Year Award honors individuals who have gone above and beyond in their mentorship to students in the SAFE Project Collegiate Recovery Leadership Academy fellowship program. These individuals demonstrate extraordinary leadership and commitment to fellow mentors and the students they serve.
Shelley was nominated by a student on the 2020/2021 Collegiate Recovery Leadership Academy, who stated that "she was pivotal in the execution of all aspects of my project; provided wonderful perspective, creative ideas, and a level of encouragement that made me feel supported beyond the project. She was available, engaged, and connected me with other leaders in recovery beyond the academy!"
I am humbled to be the recipient of the Mary L. Fleming Memorial Mentor of the Year Award. I was not fortunate enough to have met Mary, but I know she was a kindred spirit who dedicated her life and gifts to bringing joy to her family, friends, and her work. I entered recovery from addiction as a young person, and it is a particular joy and highlight to serve as a mentor now to young leaders in recovery. Turning adversity into meaningful work and servant leadership are the keystones to a joyful life. Mary L. Fleming embodied this spirit and I am honored to participate in this celebration of her life.
"