Media Contact:
Adina Young
Director of Communications, SAFE Project
adina@safeproject.us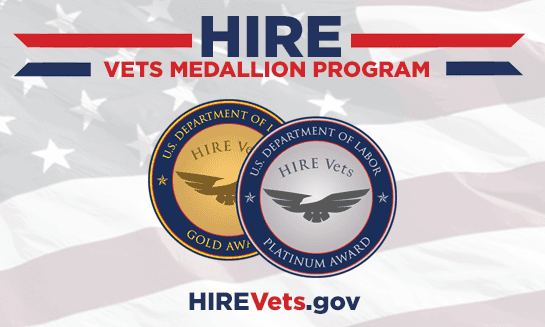 Arlington, VA – November 9, 2022 – U.S. Secretary of Labor Martin J. Walsh recognized SAFE Project as a recipient of the 2022 HIRE Vets Medallion Award during a virtual award ceremony presented by the U.S. Department of Labor. SAFE Project earned the platinum award after applying earlier this year. The Honoring Investments in Recruiting and Employing American Military Veterans Act (HIRE Vets Act) Medallion Program is the only federal award program that recognizes employers who successfully recruit, hire, and retain veterans.
"SAFE Project is honored to be recognized by the U.S. Department of Labor year after year for its infinite support of veterans," said Philip Plourde, Senior Director of SAFE Veterans at SAFE Project. "As a veteran myself, I understand the impact of the assistance SAFE Project provides our veterans and their families as they transition from military service to civilian life, whether it's through employment or through our wellness programs."
SAFE Project joins 834 other companies from 49 states, plus the District of Columbia, who have shown a commitment to hiring veterans, but also ensuring that they have a long-term career and growth plan that uses the diverse skills they acquired through their military service.
Recipients of the 2022 HIRE Vets Medallion Award meet rigorous employment and veteran integration assistance criteria, including veteran hiring and retention percentages; availability of veteran-specific resources; leadership programming for veterans; dedicated human resource efforts; pay compensation and tuition assistance programs for veterans. More than 1,400 employers have earned a HIRE Vets Medallion Award since 2018.
About the HIRE Vets Medallion Program
The HIRE Vets Medallion Award is earned by businesses that demonstrate unparalleled commitment to attracting, hiring and retaining veterans. The 2023 HIRE Vets Medallion Award application period will open to employers on Jan. 31, 2023. For more information about the program and the application process, visit HIREVets.gov. There are different awards for large employers (500-plus employees), medium employers (51-499 employees), and small employers (50 or fewer employees). Additionally, there are two award tiers: platinum and gold.
About SAFE Project
SAFE Project is a national 501(c)(3) nonprofit committed to overcoming the addiction epidemic in the United States. SAFE Project provides transformative programming, training, and technical assistance based upon a collaborative, multipronged and nonpartisan approach within each of our key initiatives – SAFE Campuses, SAFE Communities, SAFE Workplaces and SAFE Veterans. Our work is fueled through six distinct, yet interrelated lines of operation: public awareness, full-spectrum prevention, prescriptions & medical response, law enforcement & criminal justice, treatment & recovery, and family outreach & support. SAFE Project turns hope into action. For more information visit safeproject.us.