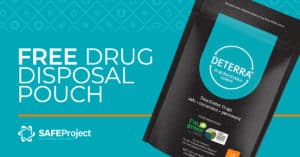 SAFE Project and the creators of the Deterra® Drug Deactivation and Disposal System are teaming up for the second Gone for Good® at-home medication disposal campaign! During the first campaign in April, Deterra and SAFE Project gave away 10,000 Deterra Pouches and destroyed nearly one million pills across the nation. Join us this October to rid the country of even more unused prescription and over-the-counter medications. 
The campaign runs Wednesday, October 1 through Saturday, October 31. Households across the US can go online to DeterraSystem.com/SAFE and request a FREE Large Deterra Pouch to be sent directly to their home, free of charge [excludes Alaska and Hawaii; while supplies last]. Each Deterra pouch can deactivate up to 90 pills, 12 ounces of liquid, or up to 12 patches.
Noting the current collision of epidemics – the increase in opioid-related overdoses and mortality in the U.S. colliding with COVID-19 – Gone for Good encourages and facilitates safe, permanent at-home medication deactivation and disposal at a time where drug take back resources and events have become limited due to COVID-19 risks.
SAFE Project aims to distribute over 11,000 Deterra Pouches, having the potential to destroy over 1 million leftover prescription and over-the-counter medication dosage units that would otherwise be available for misuse, abuse, accidental poisoning and environmental harm.
Sign up now to receive your free Deterra Pouch at DeterraSystem.com/SAFE. If your organization is interested in sponsoring or making a contribution to future campaigns to enable more Deterra Pouches to be distributed, please email Jeff Horwitz, chief operating officer at SAFE Project: Jeff@SAFEProject.us.