Are you a parent trying to figure out how to talk to your teen about the opioid epidemic? Or do you live in a community trying to jumpstart the conversation and a plan?  If you missed NOVA's premiere of "ADDICTION" on PBS last week, you can now see the entire one-hour documentary online.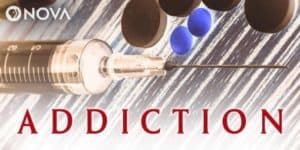 Producer, director and writer Sarah Holt interviewed families across the nation reeling from this epidemic, including Mary and Sandy Winnefeld. You'll hear firsthand from people who struggle with substance use disorder, and meet the doctors and scientists investigating why addiction is chronic, treatable medical condition, and not a moral failing.
We encourage you to watch — and discuss — this fascinating documentary,  because we are all in this together.
Free Community Screening Toolkits:
As part of PBS's education and outreach plan for "ADDICTION", NOVA  created a free community screening toolkit that gives schools and organizations across the country the opportunity to host their own screening events. The toolkit includes a screening guide with background science and tips to help plan your event, as well as DVD copy of the film.
We want to broaden opportunities for communities across the nation to engage in informed discussions about addiction and the opioid crisis. Any interested organization can find more information and request NOVA's free screening kit at https://pbs.org/addictionfilmscreening.