Ask anyone who has tried to help a child, spouse, parent, or friend find quality treatment, and they will tell you that seeking the right help can be extremely difficult. In fact, the 2019 National Survey on Drug Use and Health reported there were an estimated 18.1 million people aged 12 or older who needed substance use treatment but did not receive it. Nearly 24% of those surveyed did not know where to go for treatment.
We asked Mary and Sandy Winnefeld, SAFE Project's Co-Founders, to share their personal story about their search for appropriate treatment for their son, Jonathan, which inspired their desire to create the SAFE Treatment Locator. The SAFE Treatment and Family Support Locator is a comprehensive online tool to help everyone find treatment options and support best matched to their needs or the needs of their loved ones.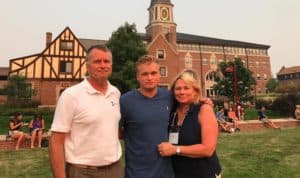 In their own words:
MARY:  We didn't know a lot about addiction, but we knew this was something bigger than ourselves and bigger than we could handle.  We got Jonathan into a safe place where he could detox, but we realized we could no longer keep him safe living at home, and we needed to figure out the next steps – which was much harder than I had ever dreamed.
SANDY:  When a parent realizes that there is a need for treatment, it's often a sudden event. And now there is a sort of panic of what do I do? Where do I go? Where is a treatment center? Where is the best treatment center?   
MARY: I really tried to find the best treatment possible, but it can be terribly difficult to sort through all the options, and there are precious few unbiased resources available that can help find the right option. I considered myself someone who knew a lot about the medical field and had helped a lot of other people with different situations so I figured that I would be able to navigate these waters. I went on the internet and searched, and it was overwhelming.
SANDY: Every substance dependent person is different and requires a different type of treatment. Mary spent a week of time on the phone trying to work her way through our own insurance system and other places.  Because our son was turn 18 years old in a few weeks, places that only take minors wouldn't take him, and places that only take adults wouldn't take him because he was too young.
MARY: Jonathan also suffered from anxiety and depression, as so many young people do, and there are surprisingly few places that are set up to handle both mental illness and addiction.  And then you have to worry about affordability, and whether a place that seems right will take your insurance or not. In our case, the military's TriCare system simply wasn't set up for success for a dependent child with this kind of problem.
SANDY:  There are a host of other factors as well, such as location.  We just wanted to make sure that our son was going to a place that had counseling, had the right combination of medical care he needed, had evidence-based treatment, and that they had a proven track record.  Eventually, we were very fortunate that a friend turned us onto a place that would work for Jon, and within 10 very-anxious days we had him in inpatient treatment.
MARY:  We knew we were not alone in our desperate search for help—indeed, since our event we have tried to help a number of families who found themselves in similar situations. So we determined that one of the first priorities for SAFE Project was to create an online treatment locator that is easy to navigate for a family in crisis. Such a locator has to help a family find treatment centers that are best matched to a loved one's needs, as quickly as possible, and in an ethical and completely unbiased way.  
SANDY: We are proud to launch the initial version of the SAFE Project Treatment Locator today. It provides a free, robust and comprehensive tool for matching people to the treatment services that best fit their needs. We want you to quickly have the information you need about which facility may be best suited for the person needing treatment or based on age, gender, dual-diagnosis, or other individual needs.  Our goal is to shrink a process that took us over a week down to a day or so. The application isn't perfect yet—we will continue to refine it as quickly as we can—but it's a good start towards helping people find the help they need.
Sandy and Mary Winnefeld, SAFE Project Co-Founders