Month-long campaign will help kids and parents in Utah generate more resiliency and honor schools.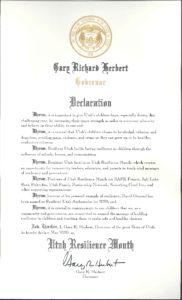 Governor Gary R. Herbert has declared May 2020 "Utah Resilience Month" as a way to provide parents with information on generating more resiliency in their families and to honor schools for their outstanding efforts to build resilience in their students. 
Resilient Utah, in partnership with SAFE Project, hopes that Utah Resilience Month will give children the tools they need to increase their inner strength to overcome adversity and believe in their ability to succeed. The goals of Utah Resilience Month are to help children choose to be alcohol, tobacco, and drug-free, and to build lasting resilience in children through the combined influence of schools, homes, and communities. Resilience Month is also an opportunity for community leaders, educators, and parents to teach vital messages of resiliency and prevention. It is a time to communicate to children that we, as a community and government, are committed to expanding the message of building resilience and making safe and healthy choices. 
Throughout May, Resilient Utah will connect with parents through public, charter, and homeschool channels, share resources and tools with school administrators and teachers, and celebrate what they have learned about resiliency during the year. Resilient Utah will also encourage the public to participate in the "Wash My Hands Challenge," and recognize David Osmond as the Resilient Utah Ambassador for 2020. 
For more information or if you would like to take part in Utah Resilience Month, please contact community@safeproject.us.
About Resilient Utah
Utah Resilience Month is facilitated by Resilient Utah, a state-wide program in collaboration with Utah Family Partnership Network, a nonprofit 501(c)(3). The goal of Resilient Utah is to build lasting resilience in children through schools, homes, and communities.  For more information, visit Resilient Utah.