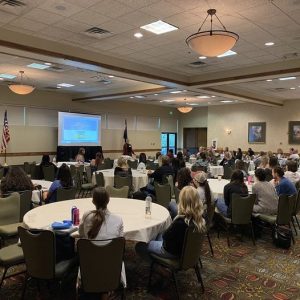 This past weekend, SAFE Veterans visited the Denver, Colorado area and held two Unpacking Your Emotional Ruck events. SAFE Project partners with a Marine Corps veteran and military spouse, Richelle Futch, to host the Your Ruck workshops. The first took place at The Steven A. Cohen Military Family Clinic at the University of Colorado Anschutz Medical Campus on June 25. The second was held the next day at the Beaver Run Resort in Breckenridge in support of the Colorado Army National Guard. There, over fifty military family members attended the Your Ruck seminar as part of a mid-deployment retreat. Most in attendance have spouses currently deployed out of the country for an extended period.
For the military, the ruck is the backpack that carries all your gear and supplies. It can weigh 70-90 pounds. The seminar uses the ruck analogy to demonstrate the unique, normalized emotional weight military-connected people (spouses, parents, relatives, and friends) experience and carry as they co-serve our country with their military members. During the seminar, coping strategies are discussed to help manage the concurrent responsibilities elevating stress levels. Comparisons are made to civilian family counterparts in order to highlight the differences in levels of stress.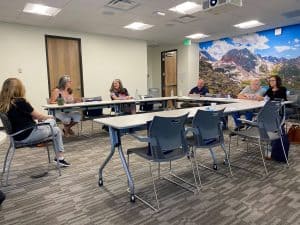 After the event held at the Cohen Clinic, the first in-person event held at the facility since the COVID-19 pandemic started, one participant said, "Unpacking Your Emotional Ruck is an excellent workshop. I found it to be extremely inspiring. I will recommend that individuals I know attend this class."
A military spouse who attended the mid-deployment family retreat also shared that, "This seminar was so helpful to me. It helped me to know that I'm truly not alone in my struggles and thoughts. It also encouraged me to see a counselor."
One individual who attended the military retreat with her partner was especially grateful. She stated, "Where have you been all my life? You were AWESOME! It was good for me. It is especially good because my husband is with me. He just doesn't understand what we went through and still are."

All of SAFE Project's Your Ruck programming has been made possible thanks to the generous support of Walmart. SAFE Project also thanks the Steven A. Cohen Military Family Clinic at the University of Colorado Anschutz Medical Campus and the Colorado National Guard for making these events possible.
SAFE Project offers free, one-hour, virtual Your Ruck lunch and learns for veteran students enrolled at universities through Veteran Centers to help address the unique stressors faced by former military members transitioning to higher education. These lunch and learns offer skill-building and coping strategies to assist the veteran to increase the possibility of success.
If you would like more information about Unpacking Your Emotional Ruck or would like to schedule an event near you, please visit the SAFE Veterans website or contact veterans@safeproject.us.