According to the CDC, 142 million opioid prescriptions were dispensed in the U.S. in 2020. Yet research shows that up to 70% of opioids prescribed for post-surgical use are leftover and unused.
Over the last year, more than 108,000 drug overdose deaths occurred in the United States — the highest number of overdose deaths ever recorded. We know that opioid dependence often starts in the home, and that the medicine cabinet is the #1 source for prescription drugs for children. Through our partnership with Deterra, we can help keep medications out of the wrong hands.

Do Your Part to Help Combat Substance Use Disorder
You have the power to destroy unused and expired prescription drugs, keeping them out of the wrong hands, avoiding intentional and unintentional misuse, and protecting the environment at the same time.
We can and must take action to educate the public about the risks of unfettered access to unused medication and provide a safe solution for their disposal.
Request a Deterra Pouch
From October 1 – 31: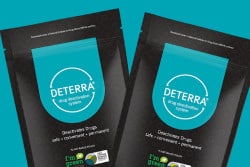 This October, SAFE Project is distributing Deterra pouches, free of charge, to individuals across the country. Visit DeterraSystem.com/SAFE during the month of October to request a free large Deterra Pouch be mailed directly to your home, or request one through participating local organizations.
Request Your Free Deterra Pouch
Learn the Facts
Nearly 108,000 Americans lost their lives to overdoses in 2021. This is the highest number of Americans lost to overdoses ever recorded.
Since its inception in April 2020, the Gone for Good Campaign has distributed 100,000 pouches nationally – enough to deactivate 9 million pills
Each large drug deactivation pouch can deactivate up to 90 pills, 12 ounces of liquid, or up to 12 patches.
It has never been more important to ensure that unused drugs are properly disposed of to prevent them from being misused or falling into the wrong hands.
Share the News
Help us spread the word on social media, via email or in your newsletter with the hashtag #GoneForGoodUS.
View this post on Instagram
View this post on Instagram
Safe medication disposal is the responsibility of every household, and it is a non-negotiable to have at-home solutions available, especially in light of the current pandemic. We all have the power to make everyday drug take back day.