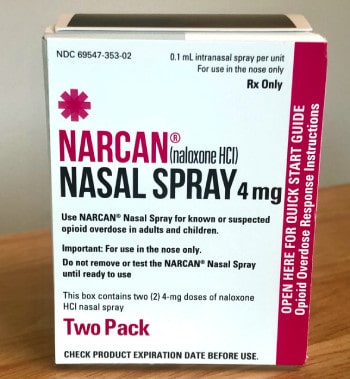 Narcan OTC Availability Update
The first shipments of over-the-counter naloxone — NARCAN® Nasal Spray — are on their way to local pharmacies, grocery stores, and online retailers. Naloxone is a life-saving drug that reverses the effects of an opioid overdose. SAFE Project recognizes this OTC availability is a crucial next step in making naloxone even more accessible, and thus saving more lives.
Currently, there is no Federal Standing Order authorizing the access to naloxone. As a result, access to naloxone is controlled individually in each state. However, all 50 states have laws that allow individuals to obtain access to naloxone. The most common authorization is through a State Standing Order. However not every state uses a Standing Order to authorize a naloxone prescription. Whether through a Standing Order or individual protocol, naloxone is available across the nation. To determine how to obtain naloxone in your state, choose the appropriate/respective state button below.
As you investigate the rules within your state, it is important to understand the difference between access to naloxone for individuals at risk in contrast to access to naloxone by a third party who might be a family member, caregiver, or citizen interested in being prepared to save a life.
Important Note:
Often, it is not the person who is at risk of an overdose that wishes to obtain naloxone: it can be a family member or friend that expresses concern for an individual at risk. That individual's eligibility to obtain naloxone under individual state laws is known as Third Party Prescribing. When reviewing the relevant state statute, we have identified all states with rules authorizing Third Party prescribing.
State Listings & Information

State: Alabama
3rd Party Access: Yes
Pharmacy Access Notes: Alabama law provides that naloxone can be provided to First Responders. State Standing Order allows distribution of naloxone to individuals at risk of overdoses as well as a, "family member, friend or individual…who is in a position to assist a person at risk of experiencing an opioid-related overdose."
Other Resources:
https://www.alabamapublichealth.gov/
https://www.alabamapublichealth.gov/pharmacy/assets/naloxonestandingorder.pdf


State: Alaska
3rd Party Access: Yes
Pharmacy Access Notes: Law allows licensed healthcare providers (including pharmacists), and employees or volunteers of opioid overdose programs acting under a standing order, to make naloxone available to anyone at risk or in a position to assist, directly, or via standing order.
Other Resources:
https://health.alaska.gov/osmap/pages/default.aspx
https://health.alaska.gov/osmap/Pages/hope.aspx


State: Arizona
3rd Party Access: Yes
Pharmacy Access Notes: Statewide standing order from the State Health Officer allows pharmacists to dispense naloxone to anyone without a prescription.
Other Resources:
https://www.azdhs.gov/documents/prevention/womens-childrens-health/injury-prevention/opioid-prevention/opioid-naloxone-faq.pdf
https://www.azdhs.gov/opioid/#naloxone


State: Arkansas
3rd Party Access: Yes
Pharmacy Access Notes: Law allows licensed healthcare providers (including pharmacists) to make naloxone available to anyone at risk or in a position to assist someone at risk.
Other Resources:
https://www.pharmacyboard.arkansas.gov/faqs/naloxone/


State: California
3rd Party Access: Yes
Pharmacy Access Notes: Law allows licensed healthcare providers (including pharmacists) to make naloxone available to anyone. Statewide standing order permits community organizations to dispense naloxone to a person at risk or in a position to assist a person at risk without a prescription.
Other Resources:
https://www.chcf.org/wp-content/uploads/2018/10/NaloxoneAccessCA2018.pdf
https://drugpolicy.org/pharmacy-naloxone-access-california
https://www.dhcs.ca.gov/individuals/Pages/Naloxone_Distribution_Project.aspx


State: Colorado
3rd Party Access: Yes
Pharmacy Access Notes: Law allows pharmacies, licensed physicians, and mental health professionals, which have a standing order written by a medical professional with prescriptive authority, to dispense naloxone to someone at risk, in a position to assist someone at risk, a first responder or a harm reduction organization without a prescription.
Other Resources:
https://cdhs.colorado.gov/sites/cdhs/files/documents/ISVP_Naloxone_Law_Enforcement_Standing_Orders.pdf
https://www.stoptheclockcolorado.org/


State: Connecticut
3rd Party Access: Yes
Pharmacy Access Notes: Law allows licensed healthcare professionals (including certified pharmacists) to dispense naloxone to anyone without a prescription.
Other Resources:
https://portal.ct.gov/DCP/Drug-Control-Division/Drug-Control/Naloxone-Pharmacies


State: Delaware
3rd Party Access: Yes
Pharmacy Access Notes: Delaware Standing Orders authorize distribution of naloxone to first responders and individuals such as, "friends or family members whose loved ones are known to be at risk of experiencing an opioid related overdose." Every recipient is required to complete a one hour training prior to receiving naloxone.
Other Resources:
https://dhss.delaware.gov/dhss/
https://www.dhss.delaware.gov/dhss/dph/standingorders.html
https://dhss.delaware.gov/dhss/pressreleases/2022/naloxonetraining_030322.html
https://www.dhss.delaware.gov/dhss/pressreleases/2022/pharmcsteduc_100622.html
https://www.helpisherede.com/overdose-prevention


State: Florida
3rd Party Access: Yes
Pharmacy Access Notes: Law allows authorized healthcare practitioners and pharmacists to dispense naloxone to patients, caregivers, and first responders without a prescription. 
Other Resources:
http://www.leg.state.fl.us/statutes/index.cfm
http://www.floridahealth.gov/licensing-and-regulation/ems-system/_documents/standing-order-naloxone.pdf
https://www.isavefl.com/education.shtml
https://www.floridahealth.gov/licensing-and-regulation/ems-system/heros.html


State: Georgia
3rd Party Access: Yes
Pharmacy Access Notes: Statewide standing order allows licensed practitioners and pharmacies to dispense naloxone to anyone in a position to help – training advised but not required.
Other Resources:
https://dph.georgia.gov/sites/dph.georgia.gov/files/ChronicDisease/Standing%20Order%20Naloxone%5B2%5D.pdf


State: Hawaii
3rd Party Access: Yes
Pharmacy Access Notes: Law allows healthcare providers (including pharmacists) to make naloxone available to anyone at risk or in a position to assist someone at risk, or to a harm reduction organization. Act 154 is consistent with a statewide protocol.
Other Resources:
https://www.capitol.hawaii.gov/slh/Years/SLH2018/SLH2018_Act154.pdf
https://www.hhhrc.org/overdose


State: Idaho
3rd Party Access: Yes
Pharmacy Access Notes: Law allows prescribers and pharmacists to prescribe and dispense to anyone at risk, licensed health professionals in a position to assist (including in course of official duties), or in the opinion of the pharmacist has a valid reason to possess. Any licensed healthcare professional can dispense to anyone with a valid reason to possess naloxone. 
Other Resources:
https://legislature.idaho.gov/statutesrules/idstat/title54/t54ch17/sect54-1733/
https://legislature.idaho.gov/wp-content/uploads/sessioninfo/2019/legislation/H0012.pdf


State: Illinois
3rd Party Access: Yes
Pharmacy Access Notes: Statewide standing order from State Health Officer allows pharmacists and overdose education and naloxone distribution programs to dispense naloxone to anyone who requests it. Statewide standing order from State Health Officer allows health care professionals (including pharmacists) and overdose education and naloxone distribution (OEND) programs to dispense naloxone to anyone who requests it. OEND programs may include law enforcement agencies, drug treatment programs, local health departments, hospitals, urgent care facilities, or other for-profit or not-for-profit community based organizations.
Other Resources:
https://dph.illinois.gov/topics-services/opioids/naloxone.html


State: Indiana
3rd Party Access: Yes
Pharmacy Access Notes: Statewide standing order from State Health Officer allows pharmacists, and entities registered with the Indiana State Health Department to dispense naloxone to anyone who requests it.
Other Resources:
https://www.in.gov/isdh/27387.htm


State: Iowa
3rd Party Access: Yes
Pharmacy Access Notes: Statewide standing order form State Health Officer allows trained pharmacists to dispense naloxone to a person at risk, someone in a position to assist or to a first responder employed by law enforcement or fire department, without a prescription.
Other Resources:
https://pharmacy.iowa.gov/naloxone-standing-order


State: Kansas
3rd Party Access: Yes
Pharmacy Access Notes: Statewide protocol allows allows anyone believed to be at risk, has family/friends at risk, is a first responder, school nurse, or scientist to obtain Narcan Nasal Spray. Kansas state will deliver a free Narcan kit to Kansas residents.
Other Resources:
https://kdads.ks.gov/kdads-commissions/behavioral-health/kansas-naloxone-program
https://www.dccca.org/naloxone-kit-request-form/


State: Kentucky
3rd Party Access: Yes
Pharmacy Access Notes: Kentucky rules on naloxone access are very difficult to find and it is expected that few will understand their entitlement. The University of Kentucky reported that historically, Kentucky ranked among the less supportive states to support naloxone access. However, protocols currently exist and authorizes but does not require a pharmacist to provide naloxone to individuals at risk of an overdose, as well as, "any person or agency who voluntary requests naloxone." 
Other Resources:
https://odcp.ky.gov/Stop-Overdoses/Pages/default.aspx
https://pharmacy.ky.gov/Documents/Sample%20Naloxone%20Protocol%20and%20Education%20Sheets.pdf
https://www.chfs.ky.gov/agencies/dph/dehp/hab/Documents/KYNaloxoneRx.pdf
https://kyhrc.org/


State: Louisiana
3rd Party Access: Yes
Pharmacy Access Notes: Statewide standing order from State Health Officer allows a pharmacist to dispense to anyone (after required training), without a prescription.
Other Resources:
https://ldh.la.gov/assets/HealthyLa/Pharmacy/NaloxoneStandingOrder.pdf
http://ldh.la.gov/index.cfm/page/2973


State: Maine
3rd Party Access: Yes
Pharmacy Access Notes: Statewide protocol allows a pharmacist with a standing order from a physician to prescribe to anyone at risk or in a position to help someone at risk without a prescription. 
Other Resources:
https://www.maineaccesspoints.org/naloxone
https://www.mainehealthequity.org/naloxone-training-and-distribution


State: Maryland
3rd Party Access: Yes
Pharmacy Access Notes: State law allows pharmacists, in collaboration with a registered practitioner, to provide naloxone to persons at risk for, or know of someone at risk for, opioid overdose.
Other Resources:
https://health.maryland.gov/pha/NALOXONE/Pages/Pharmacies-that-stock-naloxone-.aspx
https://health.maryland.gov/pha/NALOXONE/Pages/Statewide-Standing-Order.aspx


State: Massachusetts
3rd Party Access: Yes
Pharmacy Access Notes: Statewide standing order from State Health Officer authorizes licensed pharmacists to dispense naloxone to anyone at risk or in a position to help someone at risk without a prescription.
Other Resources:
https://www.mass.gov/service-details/information-for-community-members-about-how-to-get-naloxone
https://www.mass.gov/service-details/overdose-prevention-training-resources


State: Michigan
3rd Party Access: Yes
Pharmacy Access Notes: Law and statewide standing order from State Health Officer allow a trained pharmacist to dispense naloxone to anyone at risk or in a position to help someone at risk without a prescription.
Other Resources:
https://www.michigan.gov/mdhhs/0,5885,7-339-71550_2941_4871_79584_79585_79587_79591-409684–,00.html


State: Minnesota
3rd Party Access: Yes
Pharmacy Access Notes: Statewide protocol allows pharmacists to dispense naloxone to anyone at risk, in a position to assist, a first responder, or a school nurse without a prescription. Only specific pharmacists and providers carry naloxone for the public; the "Naloxone Finder" website can be used to locate naloxone in Minnesota.
Other Resources:
https://www.health.state.mn.us/communities/opioids/basics/naloxone.html
https://knowthedangers.com/naloxone-finder/


State: Mississippi
3rd Party Access: Yes
Pharmacy Access Notes: Statewide standing order from State Health Officer allows pharmacists to dispense to anyone without a prescription.
Other Resources:
https://www.mbp.ms.gov/news/naloxone-statewide-standing-order
https://standupms.org/naloxone/


State: Missouri
3rd Party Access: Yes
Pharmacy Access Notes: Statewide standing order from State Health Officer allows pharmacists to dispense to anyone at risk or in a position to help someone at risk without a prescription.
Other Resources:
https://mohopeproject.org/resources/get-naloxone/


State: Montana
3rd Party Access: Yes
Pharmacy Access Notes: Statewide standing order from State Health Officer allows pharmacists to dispense to anyone without a prescription.
Other Resources:
https://dphhs.mt.gov/amdd/naloxone/
https://dphhs.mt.gov/amdd/naloxone/standingorder


State: Nebraska
3rd Party Access: Yes
Pharmacy Access Notes: Law and standing order allow pharmacists to dispense to anyone at risk or in a position to help someone at risk without a prescription. 
Other Resources:
https://nebraskalegislature.gov/laws/statutes.php?statute=28-470
https://dhhs.ne.gov/Pages/Drug-Overdose-Prevention-Naloxone.aspx
https://dhhs.ne.gov/DOP%20document%20library/Naloxone%20standing%20order.pdf


State: Nevada
3rd Party Access: Yes
Pharmacy Access Notes: Law allows any individual pharmacist or chain pharmacy with a standing order from the Department of Health to dispense naloxone to anyone without a prescription (education training required).
Other Resources:
http://dpbh.nv.gov/uploadedFiles/dpbhnvgov/content/Resources/opioids/opioid_STR_Pamphlet_nasal_ap6.pdf
http://dpbh.nv.gov/uploadedFiles/dpbhnvgov/content/Resources/opioids/naloxone_toolkit_color.pdf


State: New Hampshire
3rd Party Access: Yes
Pharmacy Access Notes: Law allows pharmacists with a standing order from a physician to dispense naloxone to patients, caregivers, and first responders without a prescription.
Other Resources:
https://www.thedoorway.nh.gov/avoid-overdose
https://www.oplc.nh.gov/sites/g/files/ehbemt441/files/inline-documents/sonh/nh-dhhs-naloxone-standing-order-template.pdf


State: New Jersey
3rd Party Access: Yes
Pharmacy Access Notes: Law allows any individual pharmacist or chain pharmacy with a standing order from the Department of Health to dispense naloxone to anyone without a prescription.
Other Resources:
https://www.nj.gov/health/integratedhealth/home/naloxone.shtml
https://nj.gov/humanservices/stopoverdoses/
https://www.state.nj.us/humanservices/news/pressreleases/2023/approved/20230110.shtml


State: New Mexico
3rd Party Access: Yes
Pharmacy Access Notes: Law and statewide standing order from State Health Officer allow a pharmacist to dispense naloxone to anyone at risk or in a position to help someone at risk without a prescription.
Other Resources:
https://nmhealth.org/about/phd/idb/hrp/


State: New York
3rd Party Access: Yes
Pharmacy Access Notes: Law and standing orders allow pharmacists to dispense naloxone to anyone without a prescription.
Other Resources:
https://www.health.ny.gov/diseases/aids/general/opioid_overdose_prevention/


State: North Carolina
3rd Party Access: Yes
Pharmacy Access Notes: Statewide standing order from State Health Officer allows health care professionals (including pharmacists) and overdose education and naloxone distribution (OEND) programs to dispense naloxone to anyone who requests it. OEND programs may include law enforcement agencies, drug treatment programs, local health departments, hospitals, urgent care facilities, or other for-profit or not-for-profit community based organizations.
Other Resources:
http://www.naloxonesaves.org/
https://www.dph.ncdhhs.gov/docs/NCNaloxoneStandingOrderforPharmacistsMarch2022.pdf


State: North Dakota
3rd Party Access: Yes
Pharmacy Access Notes: Law allows a pharmacist to dispense directly or under a standing order to anyone at risk or in a position to assist someone at risk without a prescription.
Other Resources:
https://prevention.nd.gov/stopoverdose/naloxone


State: Ohio
3rd Party Access: Yes
Pharmacy Access Notes: Law allows a pharmacist under a standing order from a physician to dispense to anyone without a prescription.
Other Resources:
https://odh.ohio.gov/wps/portal/gov/odh/know-our-programs/violence-injury-prevention-program/projectdawn/


State: Oklahoma
3rd Party Access: Yes
Pharmacy Access Notes: Law allows participating pharmacies to dispense to anyone without a prescription, or through a free state training program. 
Other Resources:
http://okimready.org/overdose/
https://oklahoma.gov/health/health-education/injury-prevention-service/drug-overdose/naloxone.html
https://aem-prod.ok.gov/content/dam/ok/en/health/health2/aem-documents/prevention-and-preparedness/injury-prevention/drug-overdose/up-naloxone-fact-sheet.pdf


State: Oregon
3rd Party Access: Yes
Pharmacy Access Notes: Law allows a pharmacist to dispense to anyone without a prescription.
Other Resources:
https://staysafeoregon.com/prevent-overdose/save-life-using-naloxone/
https://www.oregon.gov/oha/ph/preventionwellness/substanceuse/opioids/pages/naloxone.aspx


State: Pennsylvania
3rd Party Access: Yes
Pharmacy Access Notes: Law allows a pharmacist under a standing order from a physician to dispense to anyone without a prescription.
Other Resources:
https://www.ddap.pa.gov/overdose/Pages/Naloxone_Reversal.aspx
https://www.pccd.pa.gov/criminaljustice/advisory_boards/Pages/Naloxone-for-First-Responders.aspx


State: Rhode Island
3rd Party Access: Yes
Pharmacy Access Notes: Pharmacists operating under a collaborative practice agreement (standing order from a physician) can dispense naloxone to anyone without a prescription.
Other Resources:
https://preventoverdoseri.org/get-naloxone/


State: South Carolina
3rd Party Access: Yes
Pharmacy Access Notes: Law allows any licensed pharmacist to dispense to a person at risk or their caregiver without a prescription. No other third party access is permitted. 
Other Resources:
http://naloxonesavessc.org/


State: South Dakota
3rd Party Access: Yes
Pharmacy Access Notes: Standing Order allows pharmacists to dispense to anyone at risk or in a position to assist someone at risk without a prescription.
Other Resources:
https://doh.sd.gov/documents/EMS/EMSNaloxone.pdf


State: Tennessee
3rd Party Access: Yes
Pharmacy Access Notes: Law allows a pharmacist under a standing order from a physician to dispense to anyone at risk or in a position to assist someone at risk without a prescription.
Other Resources:
https://www.tn.gov/health/health-program-areas/health-professional-boards/csmd-board/csmd-board/naloxone-training-information.html


State: Texas
3rd Party Access: Yes
Pharmacy Access Notes: Law and standing order allows accredited pharmacists to dispense to anyone at risk or in a position to assist someone at risk without a prescription.
Other Resources:
https://txoti.org/


State: Utah
3rd Party Access: Yes
Pharmacy Access Notes: Law and standing order allow pharmacists to dispense to anyone at risk or in a position to help someone at risk without a prescription.
Other Resources:
http://www.utahnaloxone.org/utah-pharmacies-with-naloxone-rescue-kits/
https://dopl.utah.gov/nurse/Naloxone_Standing_Order_Feb_2021.pdf


State: Vermont
3rd Party Access: Yes
Pharmacy Access Notes: Statewide standing order from State Health Officer allows pharmacists to dispense to anyone without a prescription.
Other Resources:
http://www.healthvermont.gov/response/alcohol-drugs/narcan-naloxone-overdose-rescue


State: Virginia
3rd Party Access: Yes
Pharmacy Access Notes: Law and standing order allow pharmacists and community organizations to dispense to anyone without a prescription.
Other Resources:
http://dbhds.virginia.gov/behavioral-health/substance-abuse-services/revive


State: Washington
3rd Party Access: Yes
Pharmacy Access Notes: Law allows pharmacists and non-medical personnel to dispense under a Collaborative Drug Therapy Standing order from a legal prescriber to anyone without a prescription.
Other Resources:
https://stopoverdose.org/docs/FAQsNaloxoneforCommunityAgencies.pdf
https://www.doh.wa.gov/YouandYourFamily/DrugUserHealth/OverdoseandNaloxone
https://doh.wa.gov/sites/default/files/legacy/Documents/Pubs/150-127-StatewideStandingOrderToDispenseNaloxone.pdf


State: West Virginia
3rd Party Access: Yes
Pharmacy Access Notes: Law and statewide standing order from State Health Officer allow pharmacists to dispense to anyone at risk or in a position to help someone at risk without a prescription.
Other Resources:
https://dhhr.wv.gov/bph3/Documents/Standing%20Order%20for%20Naloxone%202018/NaloxonePrescriptionforOverdosePrevention-Amjad-08.10.2021.pdf 
https://nextdistro.org/westvirginia


State: Wisconsin
3rd Party Access: Yes
Pharmacy Access Notes: Law and statewide standing order from State Health Officer allow participating pharmacies to dispense to anyone at risk or in a position to help someone at risk without a prescription.
Other Resources:
https://doc.wi.gov/GuidanceDocumentsV2/DCC/AD%2021-03%20Use%20of%20Naloxone.pdf
https://www.dhs.wisconsin.gov/opioids/professionals.htm


State: Wyoming
3rd Party Access: Yes
Pharmacy Access Notes: Law allows pharmacists to prescribe naloxone directly to anyone at risk or in a position assist someone at risk.
Other Resources:
https://health.wyo.gov/publichealth/prevention/substanceabuseandsuicide/opioid-information-wyoming/opioid-overdose-response/


Additional Location: Washington D.C.
3rd Party Access: Yes
Pharmacy Access Notes: Law allows trained community health organizations (with a standing order from a physician) or healthcare providers including trained pharmacists to dispense to anyone at risk or in a position to help someone at risk without a prescription.
Other Resources:
https://dchealth.dc.gov/sites/default/files/dc/sites/doh/publication/attachments/181204%20DC%20Naloxone%20Standing%20Order_1.pdf
https://code.dccouncil.gov/us/dc/council/laws/21-186