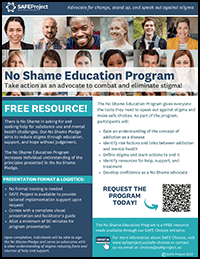 The No Shame Education Program is a fundamental course on substance addiction and mental health that is universal, innovative, and evidence-informed. The program builds out knowledge of the four principles listed on SAFE Project's No Shame Pledge and aims to end stigma.
Recognize the impact of addiction
Understand the disease concept of addiction and its link to mental health and wellness
Breakdown myths, stigma, and perceived attitudes about mental health and addiction challenges
Explore contributing factors to addiction
A comprehensive facilitator's guide with engagement prompts, suggested exercises, presentation tips, and supplemental resources
Captivating visuals to energize students and encourage active participation
Pre- and post-assessments for both facilitators and participants
NOTE: Be sure to check your "Promotions" tab or spam folder if you do not immediately see your No Shame Education Program email after submitting the form above!