Nearly 40 years ago, the New England Journal of Medicine (NEJM) published a very brief Letter to the Editor.  "Addiction Rare in Patients Treated with Narcotics" was merely one paragraph and just used 101 words. No one, especially the authors,  could have predicted this brief letter is now best known for its inadvertent role in the current opioid crisis.
It started  as a simple question: Dr. Hershel Jick, a respected Boston University doctor, wanted to know whether hospital patients grew addicted to their painkillers?  He and Jane Porter, a graduate student, reviewed over 11,000 hospital records for patients treated with these narcotic pain medicines – but determined that only four patients became addicted to those medicines.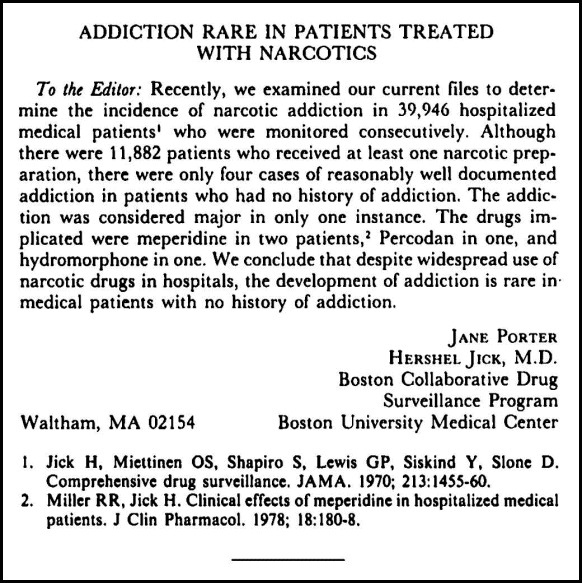 That seemed like good news – so they submitted their one-paragraph letter to NEJM for publication.  These 25 words helped lay the groundwork for others to justify prescribing opioids – and fuel an epidemic:
"We conclude that despite widespread use of narcotic drugs in hospitals, the development of addiction is rare in medical patients with no history of addiction."
Journalist Sam Quinones documented the letter in his 2015 book "Dreamland." He reported the letter went largely unnoticed until 1986, when it was cited in "Pain," the professional journal of the American Pain Society.
However, Quinones also noted that one critical fact was missing: Porter and Jick only studied hospitalized patients who were administered small doses of opioids by doctors in a hospital setting.  None of the patients studied were sent home with prescription opioids.
After that, it was as though the Porter and Jick letter had reopened Pandora's Box. Experts, doctors, pharmaceutical companies, and aggressive marketing tactics presented, cited, referenced, and repeatedly quoted those last 25 words.  Purdue Pharma used the letter as justification to market OxyContin. Even Time magazine called it a "landmark study."
It soon became conventional wisdom – so much so, that in the years that followed that very letter was cited hundreds of times as proof that opioids were rarely addictive.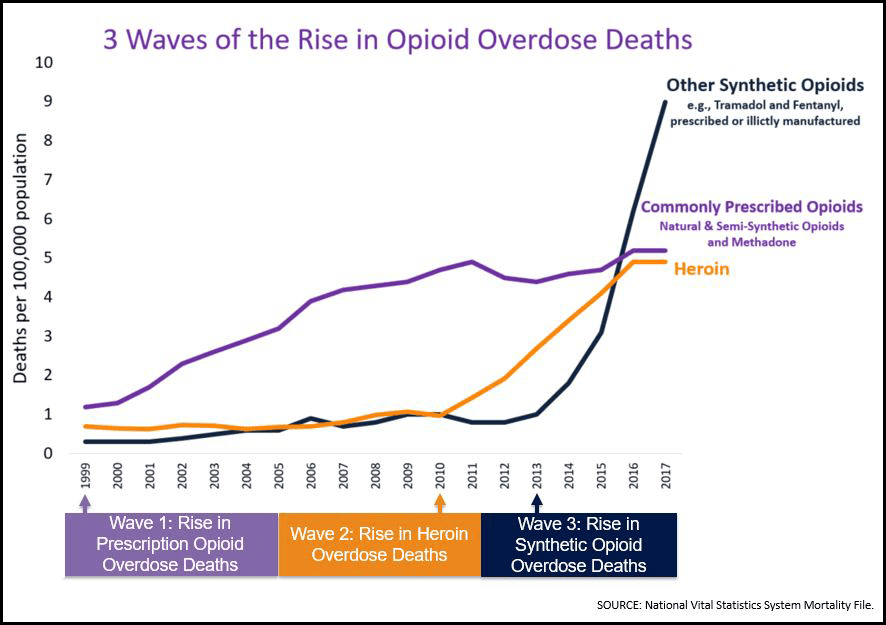 This data chart from the Center for Disease Control (CDC)  tells a dramatically different story. The rate of drug overdose deaths involving synthetic opioids other than methadone, which include drugs such as fentanyl, fentanyl analogs, and tramadol, increased on average by 8% per year from 1999 through 2013, but drastically increased by 71% per year from 2013 through 2017.
Years after the letter was first published, the New England Journal of Medicine finally issued a "corrective" to the original Porter and Jick letter in 2017.  That's because a team of Canadian researchers analyzed the Jick letter, finding that although that very letter was used over 600 times as proof of the safety of opioids, almost no one went back to see what it said in its proper context.
In a 2017 interview with NPR's Morning Edition, Dr. Hershel Jick was asked if he regretted writing the letter. Jick replied,  "The answer is, fundamentally, sure. The letter wasn't of value to health and medicine in and of itself. So if I could take it back — if I knew then what I know now, I would never have published it. It wasn't worth it."
Listen to the 2017 NPR Interview with Dr. Jick below: