We're often asked how to talk to teens about substance use disorder and/or mental health challenges, but as parents or caregivers, you also need ways to jump-start that conversation. It's also a challenge to compete for your teen's time and attention when you just need to talk.
There are a variety of new books for middle and high school students with age-appropriate and factual material to better understand substance use and mental health. Discussing books focused on substance use disorder, mental health, and recovery also gives you and your teen a way to get the conversation started on a difficult topic.
The following books offer an unbiased view of how it started, the impact, plus personal stories about the families and communities affected.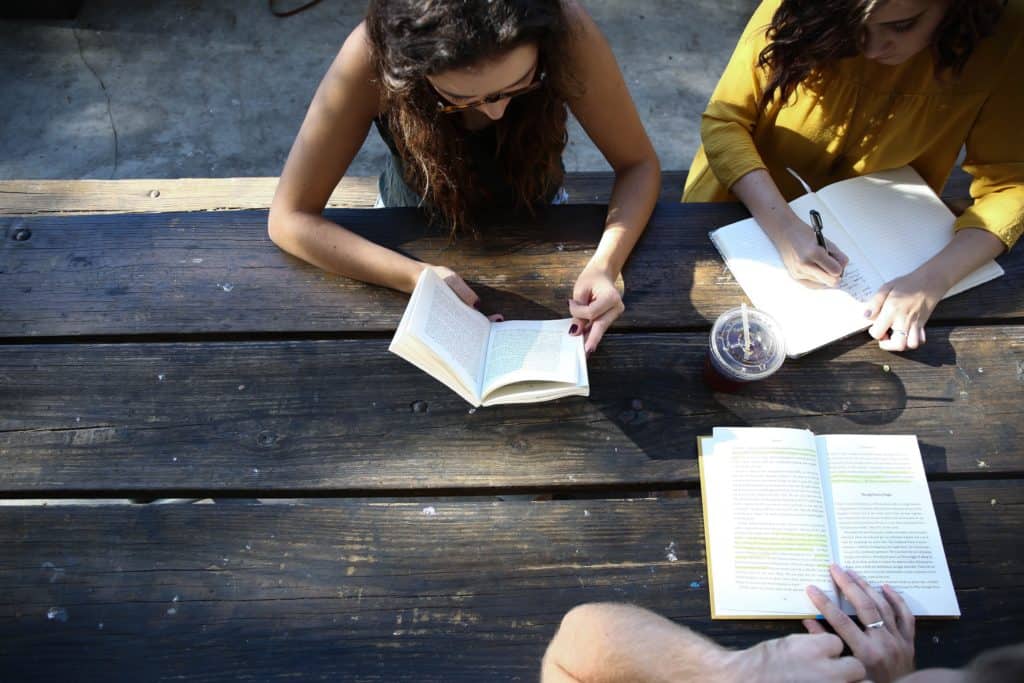 Young Adults (13-18)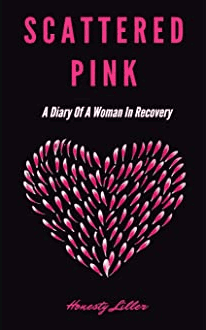 Scattered Pink: A Diary of a Woman in Recovery — Honesty Liller (2022)
How do you explain the trajectory from experimenting with substances to developing a substance use disorder to your teen? Honesty Liller is CEO of McShin Foundation, an established and respected recovery foundation. Her story begins at the age of eight and facing traumatic times at home. By the age of 12, she was introduced to marijuana, LSD, and drinking. At 16, it was crack then heroin. Readers experience her teen years into young adulthood and learn how recovery is possible. For both teens and adults — recovery is never just about "saying no" or taking punitive actions, but it's everything about healing what's within us and surrounding us.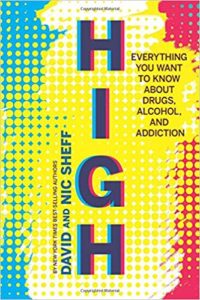 HIGH: Everything You Want to Know About Drugs, Alcohol, and Addiction — Nic Sheff, David Sheff (2019)
From the son & father behind the book and movie "Beautiful Boy", this is intended for a teen audience, and it's a great tool to use as a conversation starter for parents, educators, counselors, and teens.  In addition to Nic's personal story, he includes valuable information on marijuana, alcohol, prescription drugs, and other substances. Personal stories educate young adults not just on substance use disorder, but on treatment, relapse, and recovery.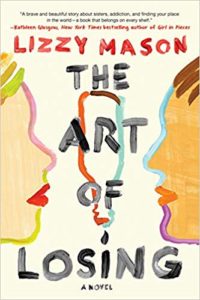 THE ART OF LOSING — Lizzy Mason (2019)
This YA novel is rooted in the author's own teen experiences with alcohol use, treatment and recovery.  It also depicts the wider impact alcohol or substance use can have on teen friendships, families, and dating.  Harley, the main character, affected by her own choices and the choices of those around her – a boyfriend who binge drinks, another friend in recovery, and a near tragedy that shakes her family to its core.  But it's her boyfriend's stunned reaction to entering rehab that gives this book one of its many honest moments.  "'I'm not an alcoholic," he said…,' I'm seventeen. How could I be?'"  Mason provides a realistic depiction of treatment as well as the struggles of a teen newly in recovery.  Teen resources are provided at the close of the book. While not a definitive guidebook about the journey of addiction, treatment, and recovery,  it may well be a great way to engage readers who love YA fiction on a timely issue.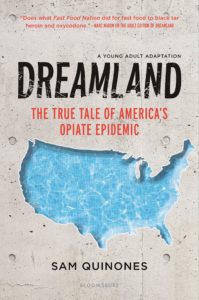 DREAMLAND (YA edition): The True Tale of America's Opiate Epidemic — Sam Quinones (2019)
  In 2015, journalist Sam Quinones debuted his non-fiction account about the perfect storm that lead up to the opioid epidemic: Purdue Pharma's release of Oxycontin and how our country got to where it is today.  Just like the first, this adaptation for young adults reads like a novel with stories focused on survivors, parents, communities, drug entrepreneurs, and the role played by pharmaceutical companies.  This version is more accessible for a teen audience, and perhaps for their parents as well. It's a great starting point for any teen and their parent or educator to talk about the root causes of an epidemic.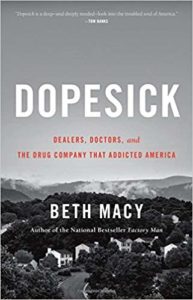 DOPESICK: Dealers, Doctors, and the Drug Company that Addicted America — Beth Macy (2018)
With a ground level focus on how the epidemic hit her own rural community, longtime journalist Beth Macy tells the story through the eyes of those fighting the disease of substance use disorder, their families, first responders, and the community ravaged by this epidemic. This is not a YA edition, but the vivid narrative and personal stories will keep both teens and parents engaged.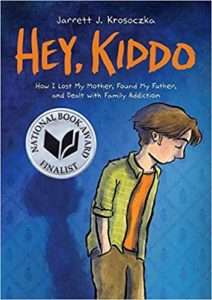 HEY, KIDDO: How I Lost My Mother, Found My Father, and Dealt with Family Addiction — Jarrett Krosoczka (2018)
Krosoczka is beloved writer and illustrator of children's books, especially the popular  "Lunch Lady" series. He is also a son whose mother struggled with substance use disorder throughout his life.  As a result, he was raised by his grandparents at a young age just like many other teens today. This graphic novel and memoir – both heartfelt and heartbreaking — is a profound view of what it's like to be in a family struggling with the impact of substance use disorder. Krosoczka lost his mother to a heroin overdose in 2017.
Have other Young Adult books on this issue that you'd like to recommend? Let us know at: familysupport@safeproject.us
Setting up a young adult book read:
Using the recommended selections listed below, and select one that may best resonate with your high school or middle school (Ages 13-18).  Also, consider letting students vote to select their preferred books for their book club. By selecting their own book, they will be more invested in getting involved.

Depending on the size of the group, select at least two adult leaders to organize the club, and lead the discussion around the selected book (discussion starters below.)   

Your local library generally purchases new releases of popular books, especially best sellers.  For a large book read, you may need to work with them in advance for extra print copies. Include digital copies as well if your library works with Kindle or Nook.

Consider working with your library to see if they would be willing to partner in a community discussion on the issue of substance use disorder in your community.

Additionally:  If you want to build a large event around the book read, we recommend using the American Library Association's

"One Book"

planning resource to plan out your event.
BOOK DISCUSSION STARTERS: 
Possible discussion questions that can be used for any of the books, or other books suited to a community discussion:
We are going to start with a quick show of hands:

How many of you think it's not very serious or not in your neighborhood?

How many believe addiction or substance use disorder is a personal decision?  How many believe it's a disease?

How many have been in situations where there were opportunities for drug or alcohol use? Did you feel pressured? Why or why not?

Did anything in the book surprise you?

Who or what is the cause for the addiction epidemic? Name as many reasons that come to mind.

Which character or story did you relate to the most?

For the personal stories that were shared in the book, did it change your opinion of those with substance use disorder? Why or why not?

Let's talk about stigma for a moment. Much of the stigma that faces people who use any substance is that it's their personal choice, and their addiction is their own fault.   After reading this book, does that change or reinforce your belief about people who use substances — whether it's opioids, alcohol or something else? 

How credible is the writer's story?  (this can be used for fiction or nonfiction titles)

Were there any parts of the book that were particularly thought provoking or disturbing?

Any parts that did not ring true for you?

What do you think could be done better in your school or community to tackle this problem? (NOTE: This can include use, overdoses, treatment, sentencing)

The author outlined some possible solutions or changes that need to happen.  Which ones do you feel could address the issue in your school or community?
Follow the Authors on Twitter: