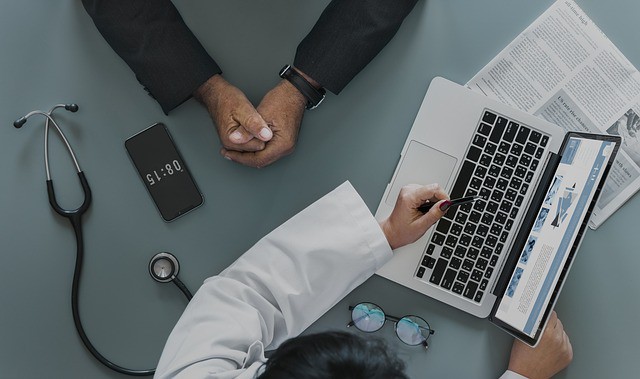 Whether you have been in recovery for one day or three decades, taking care of your physical and mental health is non-negotiable, and a visit to the doctor is critical to your personal wellness. For those in recovery, the doctor's office can also be an opportunity to fall into temptation.
Here are five tips to ensure your doctor's visits are successful and have the right focus:
1. Celebrate your recovery – While we think many doctors are knowledgeable about addiction, in most cases, they are not. Let them know about your primary addiction (what substances), length of use, and how long you have been in recovery. Also, if you have been prescribed Medication Assisted Treatment (MAT) as a means of supporting your recovery, you should alert your medical team.   If possible,  they can search for an American Society Of Addiction Medication  certified physician if they feel they need additional support in addressing your needs. Remind your doctor of your health achievements and lifestyle changes in recovery at the very beginning of your visit.  (remind the nurses, residents, or medical students as well if they visit you first). Your recovery was hard earned. It deserves to be protected, celebrated and respected as part of any care plan.
2. Bring a friend or reach out to your recovery supporters – Going to the doctor can be a stress inducing event. If you are facing a health concern that might cause pain or anxiety, having people who understand how that is a risk to your recovery will be important. Having a friend who can serve as an advocate and hold you and your doctor  accountable to your health goals, can be helpful.
3. Be your own advocate – Self-care includes advocating for yourself. That can be hard in a time-pressured medical office, but the importance of communication with your doctor cannot be understated. Make a list of questions and physical issues that you believe may be associated with your years of substance use disorder so that you don't forget anything and prioritize in order of importance. If you don't get to all of them – follow up with an email or a phone call to get answers. For example:
If you're not feeling well, ask about estimated dates for when you should feel normal again and when you should come in for a return visit.
If your doctor offers to prescribe something for you, ask about how it may make you feel, if you have to take all of it, whether or not it is addictive, and whether or not there are other alternatives. It is important to alert your physicians that as a person in recovery you are vulnerable to addictive substances and that you both need to be aware of should you encounter an issue where pain relievers or other addictive medications might be prescribed.  Do not expect your doctor to remember this important part of your medical history.
4. What if my doctor wants to prescribe me something that might risk my recovery? –  Create a plan with your doctor. This might include things like telling your support network that you've been prescribed a narcotic, having someone else dispense the medication for you, consider a lower dose or limited amount, have a plan to dispose of the unused medication, have naloxone on hand if you were prescribed opioids in case of emergency, and ensure that check-ins are in place from your recovery support network during and after the duration of these medications.
5. Don't be afraid to follow up – If you forgot to ask something, follow up with a call or an email for clarification. A pharmacist can also help clarify information about medications and their impact on your recovery. If something seems risky – hold off on filling the prescription and seek a second opinion.