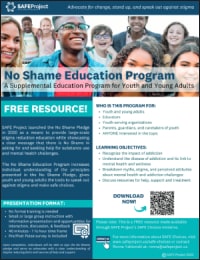 The No Shame Campaign – "Youth and Young Adult Supplemental Education Program" was developed specifically to increase knowledge AND individual understanding of the principles presented in the No Shame Pledge. Upon completion, individuals will competently and with genuine confidence sign the pledge and be positioned to serve as an advocate. An advocate with a clear understanding of the fact that there is No Shame in asking for and seeking help for substance use and mental health challenges!
Learning Objectives:
Recognize the Impact of Addiction
Understand the Disease Concept of Addiction and its Link to Mental Health and Wellness
Breakdown Myths, Stigma, and Perceived Attitudes about Mental Health & Addiction challenges
Explore Contributing Factors to Addiction
Discuss Resources for Help, Support, & Treatment
Target Audience:
Youth and Young Adults (or anyone who is interested in increased knowledge and understanding on the topic)
Any learning environment including schools, youth clubs, youth serving organizations, homes, business, etc.
Delivery:
A small or large group instruction format with information presentation and opportunities for interaction, discussion, & feedback
Request the Supplemental Education Program
NOTE: Be sure to check your "Promotions" tab or spam folder if you do not immediately see your No Shame Supplemental Education Program email after submitting the form above!