2.25 Million Opportunities for Drug Abuse Eliminated Through SAFE Project Partnership and Deterra System
The Gone for Good™ at-home medication disposal campaign broke down barriers to safe medication disposal amid COVID-19.
WASHINGTON D.C. – Nov. 24, 2020 – SAFE Project, a national nonprofit working to end the addiction epidemic, and Verde Environmental Technologies, Inc., creator of the Deterra® Drug Deactivation System, today released the results from the inaugural Gone for Good™ at-home medication disposal campaign.
During the months of April and October 2020, people could go online to request a free Deterra Pouch to be mailed directly to any U.S. household. As a result, the organizations enabled 25,000 U.S. households across 48 states and the District of Columbia to clean out their medicine cabinets by increasing access to Deterra Pouches, eliminating up to:
2.25 million prescription or over-the-counter pills, or
300,000 ounces of liquids or creams, or
300,000 patches or films
Forty U.S. states have now seen opioid overdose numbers rise amid COVID-19, due to stressors of isolation and unemployment, coupled with the challenges created for organizations to provide treatment and community outreach. Complementary to the biannual Drug Enforcement Administration (DEA) National Drug Take Back Day, Gone for Good is a realistic solution to prevent drug abuse. It provides an at-home option for medication disposal at a time when social distancing is recommended and access to prevention resources is limited.
"Opioid dependence often starts right in the home medicine cabinet," said Admiral Sandy Winnefeld, Founder of SAFE Project. "By eliminating opportunities for drug misuse and abuse, we can reduce the breadth our nation's opioid crisis – which rages on behind the scenes of COVID-19. I want to personally thank each of the Gone for Good participants for taking a major step in the fight against drug abuse."
Florida, Minnesota, Texas, Ohio and California led the Gone for Good campaign with the most pouches requested overall. October participants will receive their pouches in November 2020. To use the Deterra Pouch, insert medications, add water, close the pouch and shake, then it is safe to dispose of in normal household trash. Each Large Deterra Pouch can deactivate up to 90 pills, 12 ounces of liquid, or up to 12 patches.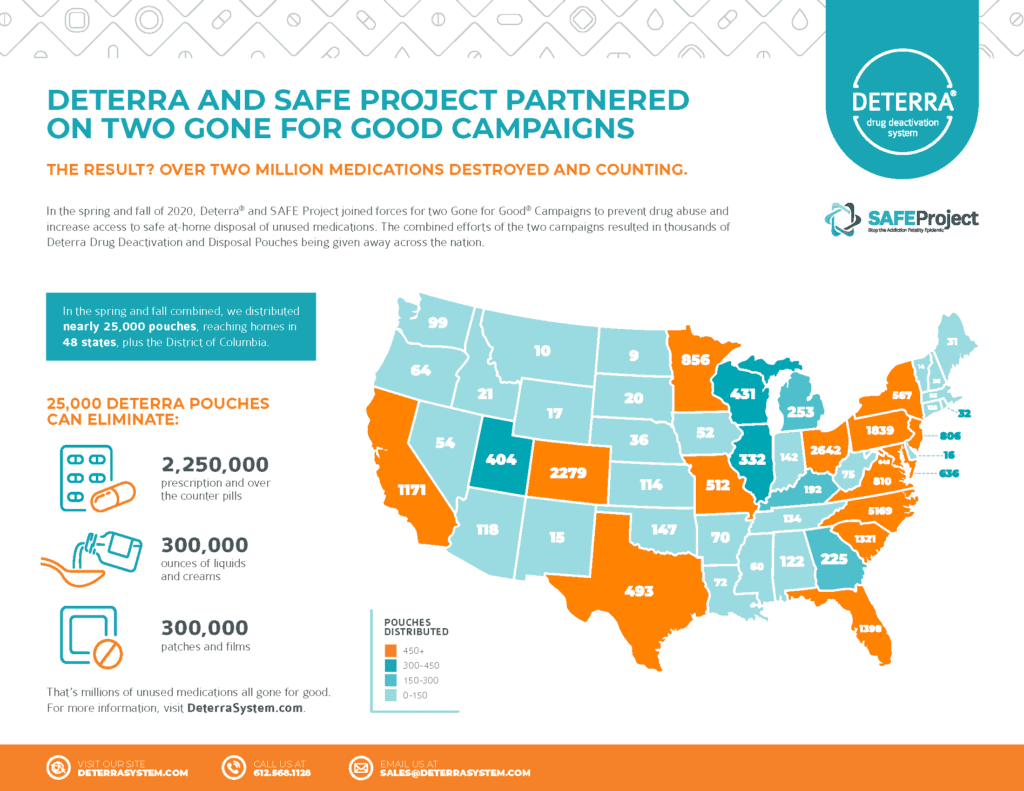 "The 2020 Gone for Good campaigns reached beyond our expectations and we are looking forward to seeing what we can do in 2021," said Jason Sundby, CEO of Verde Environmental Technologies, Inc. "Focusing our efforts on a proven harm reduction strategy – reducing the number of unused and unwanted medications available for misuse, abuse, diversion, accidental poisoning and environmental harm – will make our nation safer for everyone."
To learn how to participate in the 2021 Gone for Good at-home medication disposal campaigns, visit DeterraSystem.com/SAFE.
About Deterra and Verde Technologies, Inc.
Minneapolis based Verde® Environmental Technologies, Inc., is a privately owned company committed to developing research based scientifically proven solutions to reduce drug abuse, misuse and negative environmental impact. The patented Deterra® Drug Deactivation System is powered by proprietary Molecular Adsorption Technology, which deactivates drugs using activated carbon. Deterra is highly effective in adsorbing and firmly binding drugs, rendering them inert, unavailable for misuse and safe for the environment.
Contact:
Christine Scherping, Maccabee PR
612.294.3131
christine@maccabee.com