Arlington, VA — Feb. 17, 2021

SAFE Project, a nonprofit focused on the addiction fatality epidemic, congratulates Secretary Denis McDonough on his confirmation as the 11th Secretary of the U.S. Department of Veterans Affairs (VA).
McDonough was instrumental in the founding of SAFE Project during the organization's creation in 2017. Co-Founders Adm. James A. "Sandy" Winnefeld and his wife Mary Winnefeld established the organization following the loss of their 19-year old son, Jonathan, to an accidental opioid overdose. McDonough served on the Board of Directors for more than three years and has resigned upon his confirmation to serve as our nation's 11th VA Secretary.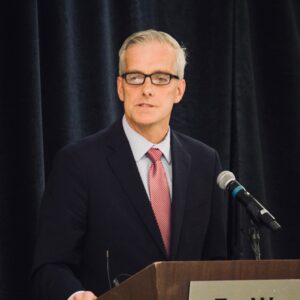 "Denis McDonough has been a fierce advocate for American families affected by mental illness, substance use, and co-occurring disorders for many years, including veterans, who are at particularly high risk for these issues along with post-traumatic stress disorder, depression, and the invisible wounds of war," said Brandee Izquierdo, Executive Director. "The entire veteran recovery community will benefit from Secy. McDonough's plan to improve outcomes and compassionate care for veterans."
SAFE Project understands both the sacrifices and rewards of military service as well as the challenges faced by our military families, caregivers, and veterans. Veterans remain twice as likely to die from an accidental overdose than any other member of society.  To help address these challenges, SAFE has established a number of programs to work directly with members of the active-duty force, veterans, and their families to build resiliency, learn coping skills and overcome the stigma associated with seeking assistance.  Additionally, SAFE has focused heavily on a servicemember's transition to civilian life and the particular challenges faced in that transition.
SAFE Project applauds the confirmation of Secretary McDonough and wishes him the greatest success in serving our nation's Veterans.
To learn more about our programs focused on military-specific recovery resources and programs, visit SAFE Veterans or  download our SAFE Veterans flyer.