The Be SAFE Campaign is taking on the addiction epidemic by

providing resources

and

spreading awareness

through a nationwide informational campaign.
Inspired to increase awareness of the addiction epidemic and the importance of being safe with prescription medication, SAFE Project launched the Be SAFE campaign in the spring of 2019.
The numbers don't lie,
The addiction epidemic is clouded by stigma, misinformation, and lack of knowledge that prevents those with substance use disorders from receiving help. The Be SAFE Campaign is taking on these issues by providing resources and spreading awareness through a nationwide informational campaign to educate American on all issues in the addiction epidemic.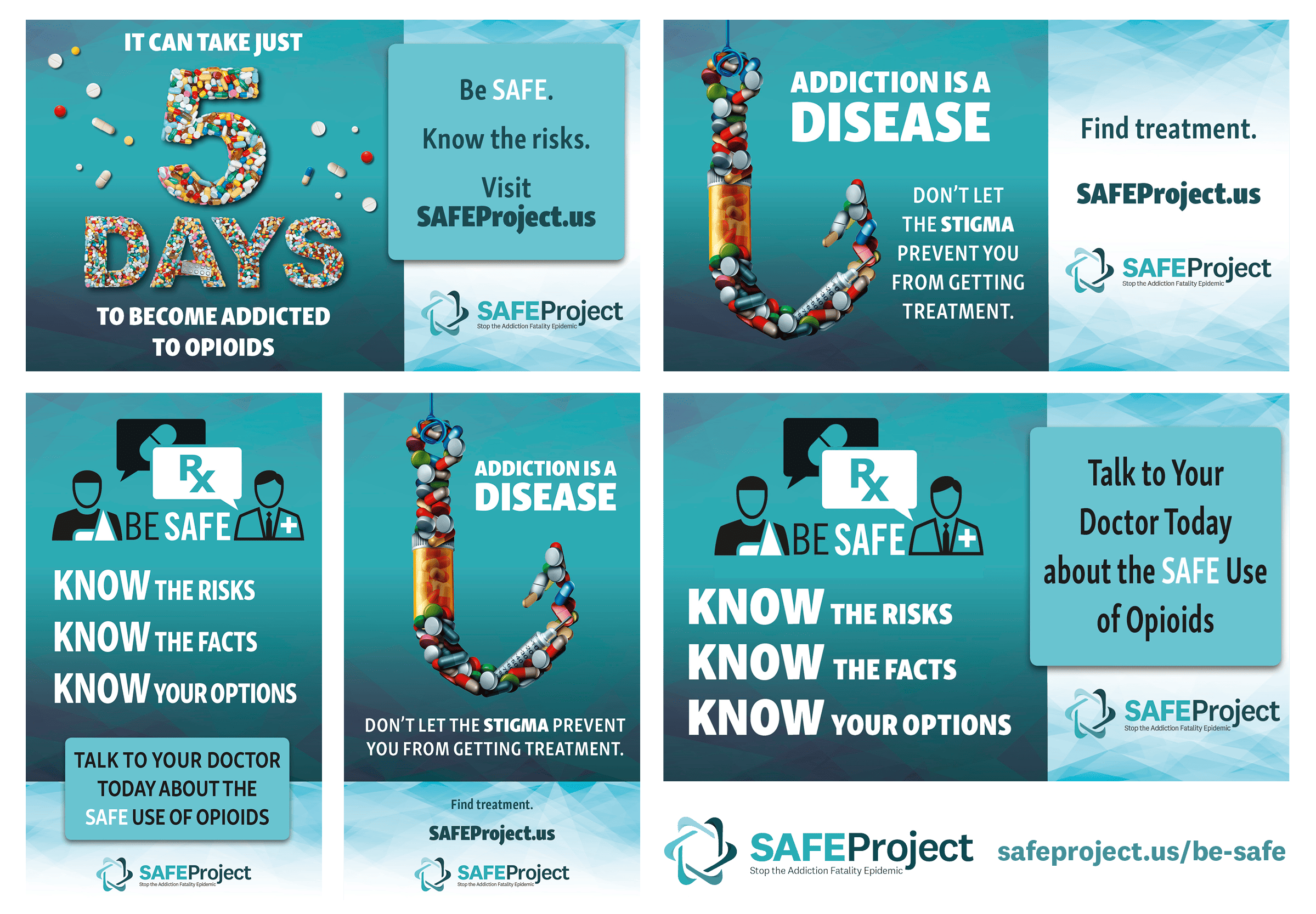 Through signage customized for your audience, the Be SAFE Campaign will educate your community on how to S.U.P.P.O.R.T. the fight against the addiction epidemic:
Save a life through the overdose reversing drug, narcan.
Utilize current evidence based program that effectively treat substance use disorders.
Prevent  at risk populations from developing a substance use disorder.
Promote the use of RX take back systems.
Organize your community to fight the addiction epidemic.
Reduce dangerous behaviors (Harm Reduction).
Talk about and breaking the stigma of substance use disorders.
The fight against the addiction epidemic starts with education, and the Be SAFE Campaign can help start that education through informational, conversation-starting signage.
"
The Be SAFE campaign partners with hospitals, veteran organizations, governmental organizations, local businesses, campuses and other institutions to reduce the effects of the addiction epidemic that has affected all Americans.
The cost to produce signage for your institution or community will vary by region or locality. Designs can be done in-house or contracted out to a designer. SAFE will work with you to create a campaign that suits your facility's needs.
SAFE is working in hospitals, campuses and other public institutions all over the U.S. Currently we have signage up in seven states (New York, Arizona, Massachusetts, West Virginia, Virginia, New Jersey, Colorado), and Washington D.C.  And soon we will have signage in five more states (California, Florida, Alabama, Washington, and Mississippi).
SAFE will also work with you to develop new messaging that matches your areas needs and culture, and use personalized statistics that show how the epidemic is affecting your area directly. Together, in a united effort, we can educate people on how they can help stop this terrible epidemic and even save the life of another person struggling with substance use disorders.
Contact our Be SAFE team today to get signs for your hospital, campus or community!
Learn more about how the Be SAFE Campaign is being implemented in hospitals across the country below.
Resources
News

SAFE Project advertisements will be showcased at 150 bus stations in New York, Boston and Chicago this summer.

Resource

"You have alternative options for pain."

News

Learn the top five tips to ensure your doctor's visit is a successful part of your recovery plan.