Newsroom
See below for our latest news coverage & media contact for inquiries.
NEWS HIGHLIGHTS

SAFE Project is proud to partner with Resilient Utah on Utah Resilience Month
"Utah Resilience Month provides a simple approach that parents can incorporate to help address social-emotional needs of their children."
Learn more about Utah Resilience Month.
We will get through this: SAFE Project hosts virtual addiction recovery sessions for college students
"We are adaptable. We will get through this. And no matter what happens there will always be someone thinking, 'What can I do to help?'"
SAFE Project unveils treatment locator for those in need of quick & personalized help
"The whole reason we founded SAFE Project was to have the ability to prevent other families from experiencing the tragedy that we experienced," said Sandy Winnefeld, co-founder of The SAFE Project. "When the time comes and you decide that your loved one needs to go into treatment, it's crisis."
Beckley VA partners with nonprofit to help educate patients on addiction
On the first floor of the Beckley VA Medical Center, a full-length poster covering the elevator door reads, "Pain is temporary. Addiction is not." This message is just one of many throughout the medical center, and is part of a partnership between the Beckley VA and the Stop the Addiction Fatality Epidemic (SAFE) Project, a nonprofit dedicated to ending the nation's addiction epidemic.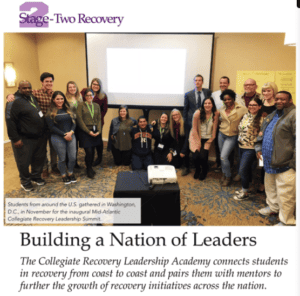 Building a Nation of Leaders
Connection is key to building sustainable, thriving campus recovery programs. In 2018, the Association of Recovery in Higher Education (ARHE) and S.A.F.E. (Stop the Addiction Fatality Epidemic) Project joined forces to make those connections happen through the  Collegiate Recovery Leadership Academy.
Read the full story on page 36.

No Family is Safe From This Epidemic
At lunch, I asked Jonathan whether he thought he was ready for the coming school year. "Dad, I can handle it as long as I continue my recovery," he said. "Everything flows from that." Only three days later, Jonathan was found unresponsive in his dormitory-room bed, one of several victims of a fentanyl-laden batch of heroin that had spread through the Denver area that week.
If you have general questions about SAFE Project, please visit our contact page so you can be connected with the right staff member.
View our Press Release Archive Below: