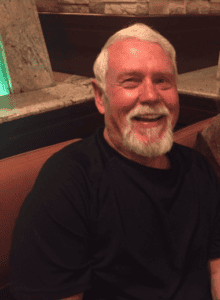 On April 4, 1994, I was in the sky diving accident which broke my back in three places, shattered my right leg and temporarily paralyzed me from the chest down. Of course, there would be many reconstructive surgeries over the next six years and of course plenty of morphine. I remember the morphine pump which I received over the next 12 surgeries. But beyond that there was the ever-present pain pills. One today, two tomorrow and that would lead me to 10+ a day. I don't remember those years but I do remember the feeling of euphoria I got from the opiates. In 1998 was my last surgery, but it would not be my last pain pill.
When I did try to quit, my world turned upside down and I just couldn't feel right, I got depressed and that brought on more pain. The pills gave me the feeling of euphoria and that everything was going to be OK. I couldn't walk by myself it was either a wheelchair or a walker because I was in so much pain I thought. I found a doctor in Palm Springs, and he was from India and he didn't know or he didn't care how much I wanted! he gave it to me. Sounds like a dream come true doesn't it? The problem was, even though he gave me 100 a week it just wasn't enough. His nurse on the other hand, told me she thought I had a problem with opiates and I should get help. I thought I was in so much pain I needed more! I was living life at that point just to take a pain pill I don't think so much for the pain as it was for the euphoria it gave me. If I took enough pills, life seemed to be a bowl full of cherries and no worries.
I woke up January 1, 1999 and realized that I couldn't remember if I had seen or talked to my children on Christmas Day, that was only five days earlier. Try and try as hard as I could, I couldn't remember or even have the ability to dial the phone and call to ask them if they had seen me. I remember thinking if this was life, I didn't want any part of it, for without yesterday there is no tomorrow, and certainly no today. It's funny I was taking the pills to forget yesterday and when it happened, it was devastating. I told God if he didn't intervene I would take my life in seven days. I remember getting a calendar and marking off the days getting ready for that fateful day.
On the sixth day, it was getting close and then I heard a knock at the door it was my daughter. I think you would call that God's timing. I told her to go away that I was so very sick and to come back tomorrow. I had full intentions of taking my life at that moment as soon as she left. Let me tell you, it took me years to get over the feeling of shame of the thought of her coming back the next day finding me dead. See the thing about that is she had a key to my house and came in. I desperately wanted her to come back tomorrow so I could commit suicide.
She could see I was sick all right, but she wasn't going anywhere. She repeatedly asked me to come with her and get help, and I repeatedly said no. As she began to cry, she got on her knees and said to me, "please come with me daddy". How could I say no again? Was this the answer to my prayer, please God help me? We left that very hour with all my pain pills in tow to a rehab center in Riverside California. They said they were a holistic treatment center, body, mind, and soul. It was just what this addict  needed. I would go into the treatment center in a wheelchair and a walker in more pain than I could imagine, and 9 months I would leave that hospital walking on my own virtually pain-free.
You see when they treated my whole body, and my whole body responded. Amazingly, I have had no other surgeries, only physical, mental, and spiritual help. It was nothing short of a miracle. Come follow me, life doesn't get any better than this – TODAY.
THE END GAME
By Rich Pomada, September 17, 1999
I think the Pill is a cure-all. PAIN BIG OR SMALL.
At first I take a Pill for pain's sake at will.
AT MY WILL
But now taken against the will
AGAINST MY WILL
Now the Pill does not console. It takes my body, mind, and soul.
IT HAS MY SOUL.
Pain or Pills are they the same? Am I going insane?
Pills are MY SHAME.
With pain on my heels, The Pain in my mind that never heals.
MY MIND NEVER HEALS.
Now I take my life to end this game. I have truly gone insane.
The Pill, The Pain, there is no gain.
Bondage is all in the game.
Shame, you see, has changed the game. PILLS will never be the same.
God take these pills from me or let me come Home to see Thee.
I asked there be no pain in God's will for me.
NO, it's not to be.
What would God's answer be, come and see.
An intervention by my daughter, a miracle it had be!
On bended knee she asked, please come along with me.
The doors of rehab are open, come inside and see.
From HELL to HEAVEN, all in nine months, and now I'm free.
I KNOW, my addiction to PILLS IS THE ENEMY.
THE END GAME
I was a captive and set free.
Look at the new Life in me, TODAY.