Just a year ago, SAFE Project was in its very first weeks as a new nonprofit focused on making a tangible difference in the opioid epidemic. Admiral James "Sandy" and Mary Winnefeld had just lost their 19-year old son Jonathan to an accidental opioid overdose in September of 2017. In the weeks that followed, the idea for the organization was born out of grief and loss, but their public call to arms was the desire to prevent other families from experiencing the same loss.
As we look forward to 2019, we took a moment to look at how far we've come since the Winnefelds first outlined the plan for SAFE Project. In its first year, Team SAFE examined the gaps in how the nation and communities address the opioid epidemic, with a strong focus on communities and campuses as we started building out new projects and programs. Our work continues to grow in SAFE's six lines of operation — Public Awareness, Prevention, Prescription Medicine, Law Enforcement & Medical Response, Treatment & Recovery, and Family Outreach & Support.
We are inspired daily by the letters and emails from families and students that we've met across the country, but thanks to your generosity, we really do feel like SAFE is making a difference. It's that inspiration and support that kept us going in our first year, and will keep us going in the years ahead.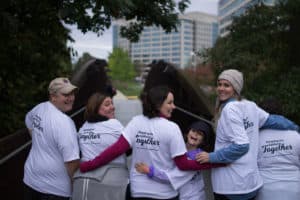 SAFE's 2018 Timeline and Milestones:
January 24-25, 2018 — The Winnefelds share their story at Dreamland Colorado Opioid Safety Summit.
March 1, 2018 — Sandy and Mary provide keynote address for U.S. Chamber of Commerce Foundation Opioids Project, in Washington, DC.
April 19, 2018 — Mary Winnefeld speaks before the House Energy and Commerce Committee's Roundtable on Combating the Opioid Crisis.
April 29, 2018 — Dr. Oz interviews the Winnefelds at the Milken Institute Global Conference. Click to watch.
May 27, 2018 — S.A.F.E. and Schmidt Peterson Motorsports join forces for the Indy 500. Over the Memorial Day weekend, S.A.F.E.'s logo was placed on the No. 5 and No. 6 Hondas driven by James Hinchcliffe and Robert Wickens.
June 1, 2018 — SAFE launches inaugural scholarship program to provide in education and training opportunities for law enforcement officers on the front lines of the opioid epidemic.
July 5-8, 2018 — SAFE teams up with Arlington baseball families for opioid epidemic awareness national nonprofit and local community to share resources, stories and prevention information at the 2018 16-18 year-old Virginia State Babe Ruth Tournament.
July 10, 2018 — SAFE and the Association for Recovery in Higher Education (ARHE) announce partnership, launching Recovery Leadership Regional Academy, providing training for college students in or seeking recovery to create and strengthen efforts on their campuses, while training them to be effective leaders throughout life.
July 28, 2018 — SAFE joins City of Alexandria, VA for "Take Back Day".
August 24, 2018 — In San Antonio, the Winnefelds discuss "Turning Heartbreak Into Hope" at Pathways to Hope, a free city-wide conference bringing together the faith and healthcare communities.
October 2018 — IRS grants SAFE Project 501(3)(c) tax-exempt non-profit status.
October 2018 — SAFE pilots Naloxone Awareness project in Virginia.
October 3, 2018 — Sandy Winnefeld shares his story with Ross Andersen at the Atlantic Festival. Watch it now.
October 3, 2018 — Mary Winnefeld appears with U.S. Surgeon General Jerome Adams and Motley Crue's Nikki Sixx at Advertising Week 2018 panel to discuss how brands can fight the opioid epidemic and break the stigma around addiction.
October 17, 2018 — PBS's NOVA airs the documentary "Addiction" featuring personal accounts from families who have faced the opioid epidemic, including the Winnefelds.
October 23, 2018 — Chris Atwood Foundation presents the Winnefelds with the Chris Atwood Super Hero Award for their dedication to end the opioid epidemic through SAFE.
October 24, 2018 — SAFE presents "Stopping the Epidemic Together: A Conversation About Drug Use Prevention" to middle school students, high school students and parents of students in Wilmington, Delaware.
October 25, 2018 — The Winnefelds appear at the Justice Department's inaugural National Opioid Summit for a panel discussion on drug abuse intervention and treatment efforts.
October 29, 2018 — SAFE hosts a Pre-Arrest Diversion Summit in partnership with N.C. Attorney General Josh Stein and Duke University.
November 9-11, 2018 — SAFE hosts its first Collegiate Recovery Leadership Summit, in partnership with ARHE.
November 28, 2018 — Mentor Foundation presents Sandy and Mary Winnefeld with the Parents for Prevention Award for for their efforts and achievements in adolescent substance use prevention.
November 28, 2018 — SAFE Takes are released, providing an in-depth assessment of federal recommendations made for the opioid epidemic.
November 29, 2018 — First anniversary of SAFE's founding.
December 2018 — The SAFE Community Playbook is released online. The step-by-step guide provides a useful survey, a list of potential stakeholders, and a set of ideas, resources, and practices—organized under SAFE's six lines of operation—from which community leaders can choose what will work best for their particular environment.