While we celebrate #CollegiateRecoveryDay today, we are doubly thrilled to celebrate one of our very own.   Hannah Fitzpatrick, our SAFE Campuses Associate Director, was honored today by the Association for Recovery in Higher Education (ARHE) with the Collegiate Recovery Community Member of the Year Award for her support and commitment to collegiate recovery.
"Hannah is an amazing example of what it means to be a recovery ally, " said Brandee Izquierdo, SAFE Project's Executive Director.  "Her dedication, support, and compassion for students in recovery are overwhelmingly heartwarming. SAFE Project is so proud of Hannah's contribution to collegiate recovery and we are honored to have her on our team."
Hannah first joined SAFE Project in early 2018, and has been part of the SAFE Campus team since inception. She leads both the Collegiate Recovery Leadership Academy (CRLA) and the National Internship Program, while actively managing the operational support for all other SAFE Campuses programs and efforts.
She's known for her personal attention and support for students in recovery, whether it's hosting check-in webinars for our CRLA students, making time for students in multiple time zones, or helping interns achieve their professional development goals while enhancing their skills.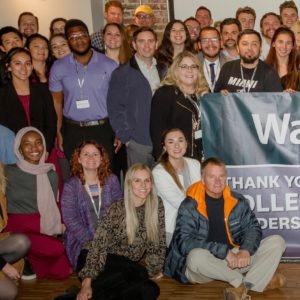 "This award came as a complete surprise to me. There are so many people who I admire in the field that have dedicated decades of their lives to this movement and to supporting students in recovery," said Hannah. "To say I'm honored to receive this kind of award is a stark understatement. Collegiate recovery opened my eyes to the power of connection and of the human spirit. Most importantly, the students I've had the opportunity to work with have inspired me beyond measure and have proven over and over that recovery is possible!"
Hannah is one of eight awardees announced today by ARHE, and we'd like to congratulate and thank each one of them for their notable efforts to make a difference in collegiate recovery.