To our SAFE family:
From its inception, as a national non-profit seeking to help stop the addiction fatality epidemic, SAFE Project has been aligned around six lines of operation in support of two key initiatives: SAFE Communities and SAFE Campuses. We are now adding a third community: SAFE Veterans, which supports men and women who have served, those who are currently serving in the military, and military families.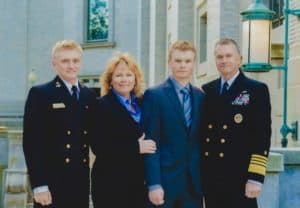 "Mary and I know firsthand the sacrifices and rewards of military service. The brave men and women who defend our country – and the families who support them – are a national treasure. So we are especially excited for SAFE Project to add such an important community in our fight to end the addiction fatality epidemic." – Adm. James "Sandy" Winnefeld, Jr.
Our nation's veteran community is made up of more than 19 million people. While the vast majority of the veteran community are safe, about eight percent of male and three percent of female veterans have problems with drugs or alcohol and more than twice the risk of suicide than those without a substance use disorder. 
Among active duty service members, 21 percent report using a prescription pain reliever, and 35 percent met the criteria for possible alcohol use disorder. When you consider that there are over 1.3 million active duty members, that is significant.  
Finally, it has been reported that young people with deployed military parents are more likely to binge drink than their civilian family peers. This trend occurs among over 1.6 million active duty family members.
Sadly, Mary and I have personally observed much of this tragedy unfold. Clearly, this is a large group that SAFE Project, given its roots in a military family, is positioned to support in multiple ways and with our six lines of operation in mind. We have several projects in progress that should continue over the next year.
Our SAFE Veterans programs include: 
Her/His Ruck:

Military spouses deal with unique stressors that often differ from their civilian counterparts.  To encourage healthy coping, SAFE Project and Richelle Futch will partner to host Her/His Ruck workshops for military and veteran spouses. These eight hour workshops use Dialectical Behavioral Therapy approach to identify and address risk and protective factors in the participant's life.

Military Culture Training for Civilian Certified Peer Recovery Specialists: 

Military service members and veterans experience a culture that is unique and separate from that of the civilian population. Understanding military culture can help Certified Peer Recovery Specialists connect with veterans and service members and provide a more meaningful support system. Military Culture Training for Peers will provide an overview of the US Military structure, the values of each service, military lingo, and military and veteran substance use.  Finally, the participants will learn about the similarities between military and recovery peer culture and how peers can better serve military and veterans.

Connection in Recovery:

We are developing a mobile application that will allow alumni of collegiate recovery programs to remain connected after they graduate and leave their campuses.

On any given year, approximately 500,000 veterans are enrolled in college — any who are in recovery programs will immediately benefit from this application.  However, we also want to benefit the larger veteran community.

Thus, as the collegiate recovery application matures, we intend to field a similar application to enable veterans in recovery to connect with each other.

Prevention Training:

Further into the future we will be working to create prevention training based on wellness model for veterans. The training will include educating veterans on the risks of prescription medications, the science of addiction, signs and symptoms of substance use disorder, how they can become a recovery ally, and how they can help their fellow veterans if they find someone in need.
We are very excited about stepping into this new community of interest and support. Our Senior Director Stephanie Weaver, who is an Army veteran on our staff will lead our SAFE Veterans efforts. We will be pursuing both private and public funding to support this important effort. As always, we're grateful for any support provided by our friends and donors! Thank you!  
— Adm. James "Sandy" Winnefeld, Jr. and Mary A. Winnefeld, SAFE Project Co-Founders
SAFE Veterans Resources
Resource

Read current statistics of how substance use disorder affects veterans, service members, families and caregivers.

Resource

We often hear about the connection between post traumatic stress disorder (PTSD) and substance use disorder. But what is it and how are they connected?